Buddhists are devastated as local authorities continue implementing the central government's orders to demolish outdoor religious statues.
by Wu Xishan
As soon as the coronavirus lockdown has been lifted, local governments throughout China returned to demolishing large outdoor religious icons. In mid-April, Lin county government in the northern province of Shanxi set up a special group, consisting of representatives from the county's United Front Work Department (UFWD), Public Security Bureau, and other government institutions, to eliminate outdoor Buddhist statues. One of its first targets became a three-faced Guanyin statue on the territory of the Yiju Temple.
A crane was brought in on April 28 to remove the 14-meter-tall icon. The demolition was completed in four days at the cost of 900,000 RMB (about $ 130,000)—almost the same amount spent to build it (over 1.1 million RMB).
The three-faced Guanyin statue is being demolished:
A local believer said that the provincial UFWD and Religious Affairs Bureau had summoned the county's CCP secretary and ordered him to demolish the statue within a month.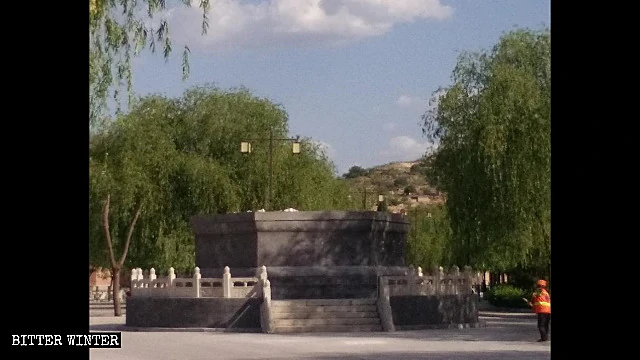 The Guozheng Temple in Shanxi's Datong city spent nearly 500,000 RMB (about $ 70,000) to build a 12.8-meter-tall Manjushri Bodhisattva statue. On November 20, 2019, government-hired workers cut the statue into nine parts because "it was taller than allowed."
According to the temple's director, officials from the municipal Religious Affairs Bureau and the village government supervised the demolition, leaving the site only after it was over. "People in China must obey the state no matter what," he added.
"A CCP leader's statue would never be demolished for being too tall," a dissatisfied believer commented.
In the eastern province of Shandong, a group of government employees from Huashan township in Jimo city came with a crane at about 6 a.m. on May 26 to demolish a 9-meter-tall Guanyin statue in the Dragon King Temple.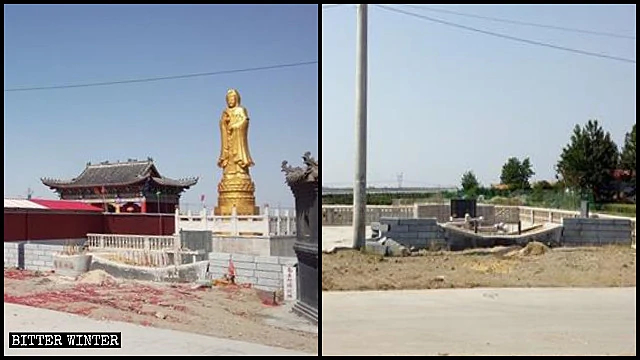 An eyewitness told Bitter Winter that the statue had been built with the money raised by local believers. "It was cut into several parts, lifted onto a truck, and taken away," the resident remembered. "And nobody could stop them. My whole body trembled with anger. The weak can't fight the strong."
"We felt very sad seeing the statue's ruins," another believer said in distress. "This is how things are done under the Communist Party's rule—they behave as they please, trying every possible means to control us and prohibit us from having religious beliefs. We choke with silent fury."
Source: Bitter Winter