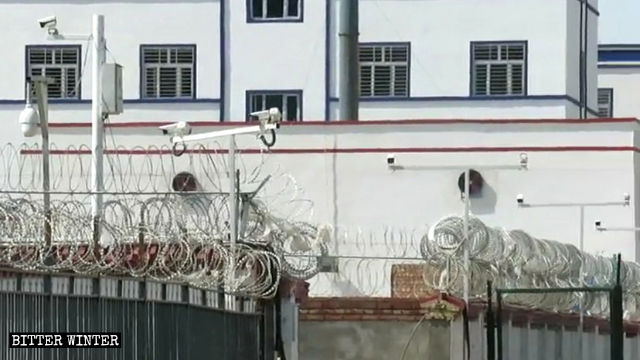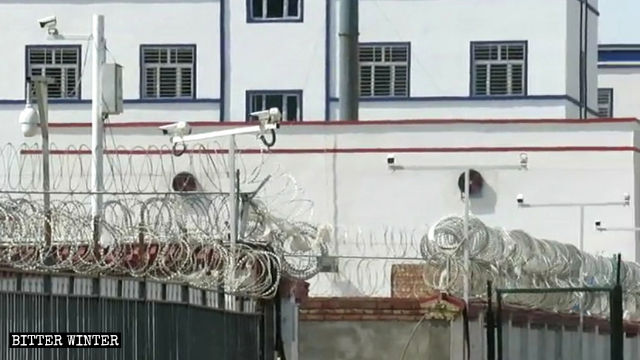 Authorities in Kashgar (in Chinese, Kashi) prefecture in northwest China's Xinjiang Uyghur Autonomous Region (XUAR) have established a special, restricted-access "residential area" to relocate Uyghurs and other Muslim minorities released from internment camps, according to local officials.
Confirmation of the new facility in the southern XUAR's Uyghur heartland comes amid indications China is relocating some inmates of a three-year-old internment camp program that has drawn international condemnation and U.S. sanctions, sending many to work in factories across China and putting some on trial.
The residential zone in the seat of Kashgar's Makit (in Chinese, Maigaiti) county permits detainees to live with their families, but otherwise differs little from the camps where authorities are believed to have held 1.8 million people since April 2017, a source in the region told RFA.
Sources who described the new guarded community of former inmates outside Kashgar, a trading post city of 500,000, gave estimates ranging from several hundred families to 7,000 people. RFA was unable to verify the population of the residential zone.
The residential area, known as the "14th Neighborhood Committee," accommodates those who have "completed their studies" at the camps, said one source, who requested anonymity, citing fear of reprisal.
He said "hundreds of families" are housed there and that entry and exit are prohibited without special permission.
The committee requires that residents continue to attend mandatory political indoctrination classes, as well as sessions involving "self-examinations" and "confessions," the source recently told RFA's Uyghur Service in an interview.
The source said he had learned about the situation in Makit county from a Uyghur former camp detainee from Tumental township named Ismail Dawut, who was sent to live in the residential area after being released from an area camp.
'One way in and out'
RFA spoke with an officer at a Makit county police station who refused to comment on the existence of the 14th Neighborhood Committee and said they had no knowledge of Dawut.
But official sources in Tumental confirmed that Dawut is a resident of their township and had been sent to live in the special area in Makit.
"We have a person named Ismail Dawut from our village who was placed in the area—he's a farmer," an officer at the Tumental Township Police Station told RFA.
"He was released from the camp and works a day job, but in the evening, he has to go back to the place called 'Yuanqu,' where all the people who went to reeducation are held."
The officer, who also declined to be named, said Yuanqu is officially known as the 14th Neighborhood Committee, and that the area has "an entrance that is guarded by police."
He said Dawut, who still owns a home in Tumental, was released from an internment camp in April last year and "directly placed in Yuanqu."
"He lives in an apartment with his family, but I've never been there," the officer said.
"It's a residential area and his kids go to school as normal. However, he has to ask for permission to travel home to Tumental. He is allowed to return only once a week."
A Tumental township government official called Dawut "98 percent free," in that he can work a job of his choosing during the day as long as he returns to the 14th Neighborhood Committee in the evening.
"The two percent restriction is, from what I can tell, not being able to visit his parents [back home]," he said.
According to the official, Dawut told him that "more than 7,000 people" are living in the special residential area, "all of whom were relocated there after re-education," using the official euphemism for detention at a camp.
"The 14th Neighborhood Committee is located in a walled and gated area with only one way in and out," he said.
"There is a school there. There are more than 100 [apartment] buildings that are eight to 10 stories tall. And there are also factories located there."
Mounting pressure
Beijing describes its three-year-old network of camps as voluntary "vocational centers," but reporting by RFA and other media outlets shows that detainees are mostly held against their will in poor conditions, where they are forced to endure inhumane treatment and political indoctrination.
Amid pressure from the U.S. and, to a lesser extent, the European Union and the United Nations, experts believe that China has begun sentencing Uyghurs held in internment camps to prison, providing legal cover to the detentions.
Some Uyghurs and other detainees are being relocated to factories inside and outside of the XUAR as forced labor, under the guise of gaining employment connected to their purported vocational training.
Information RFA obtained about the 14th Neighborhood Committee appears to dovetail with reports that China is shifting detainees out of the camps in a bid to sidestep international criticism and potentially to prepare for allowing foreign monitors into the region to investigate accounts of abuses.
Late last month, sources told RFA that authorities in the XUAR are organizing local residents for visits with outside "inspectors" by ordering them to disavow knowledge of "family planning" policies targeting Uyghurs – forced contraception and sterilization measures featured in a recent damning report on XUAR practices.
The meetings appear to have begun shortly after Adrian Zenz, a senior fellow in China Studies at the Washington-based Victims of Communism Memorial Foundation, published a report in collaboration with the Associated Press in June detailing a dramatic increase in recent years in the number of forced sterilizations and abortions targeting Uyghurs in region.
In his report, Zenz concludes such policies may amount to a government-led campaign of genocide according to the United Nations Convention on the Prevention and Punishment of the Crime of Genocide.
They also came as China's Foreign Ministry spokesperson Wang Wenbin addressed a question during a regular press briefing in Beijing about France's recent condemnation of the mass incarceration of Uyghurs and other Muslim minorities in the XUAR, and its demand that independent rights observers be granted access to the region.
"We welcome those with a truly objective and fair attitude to visit Xinjiang and see for themselves the real situation and avoid being blinded by these rumors and slanders," he said at the time, dismissing reports of mass incarcerations of Uyghurs and other Muslim minorities.
China in 2019 organized two visits to monitor internment camps in the XUAR—one for a small group of foreign journalists, and another for diplomats from non-Western countries, including Russia, Indonesia, Kazakhstan, and Thailand—during which officials dismissed claims about mistreatment and poor conditions in the facilities as "slanderous lies."
During the United Nations General Assembly in New York in September, U.S. Deputy Secretary of State John J. Sullivan told the gathering that these trips and the China-friendly accounts they produced were "Potemkin tours in a failed attempt to prove" that the camps were humane training centers.
Last week, the Trump administration sanctioned the quasi-military Xinjiang Production and Construction Corp (XPCC) and two of its current and former officials over rights violations in the XUAR. The move followed similar sanctions in July against several top Chinese officials, including regional party secretary Chen Quanguo, marking the first time Washington targeted a member of China's powerful Politburo.
Source: Copyright © 1998-2016, RFA. Used with the permission of Radio Free Asia, 2025 M St. NW, Suite 300, Washington DC 20036. https://www.rfa.org.