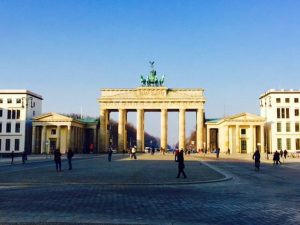 (Berlin) – German Chancellor Angela Merkel should raise critical human rights issues when she meets with Russian President Vladimir Putin in Meseberg, Germany, on August 18, 2018, Human Rights Watch said today. The chancellor's spokesperson has said that they will discuss the war in Syria, the conflict in eastern Ukraine, and energy policy.
"This meeting is an important opportunity for Angela Merkel to press Russia's president on domestic and international human rights issues," said Hugh Williamson, Europe and Central Asia director at Human Rights Watch. "In particular the release of jailed human rights activists in Russia and the protection of civilians in the anticipated fighting in Idlib, Syria, should be high on the agenda."
Russia is at its most repressive moment since the Soviet era. This trend began in 2012, following unprecedented mass protests, and intensified in 2014 in the wake of Russia's occupation of Crimea and its involvement in armed conflict in eastern Ukraine. Russian authorities have led an assault on free expression online and have targeted many critics with politically motivated and dubious charges. The imprisonment of Oyub Titiev, the Chechnya director of the key human rights group Memorial, and of the Crimean filmmaker Oleg Sentsov exemplify the harsh crackdown.
In eastern Ukraine, the Russian government does little to rein in abuses by the de-facto authorities it backs, in the so-called Donetsk People's Republic and Luhansk People's Republic.
In Syria, since late 2015, the Russian-Syrian military alliance has conducted targeted and indiscriminate strikes against civilians, including with prohibited weapons such as cluster and incendiary weapons. If an impending Russian-Syrian offensive on Idlib is characterized by the same unlawful tactics, the result will be extensive displacement and significant civilian casualties, Human Rights Watch said.
But Russia has leverage with the Syrian government to stop the use of prohibited weapons, indiscriminate, and targeted attacks against civilians. Chancellor Merkel should urge President Putin to commit to preventing the use of prohibited weapons and to protecting civilians from unlawful attacks.
Chancellor Merkel should also press Russia, as Syria's primary ally, to urge the Syrian government to stop practices of enforced disappearances and torture in detention and to repeal Law 10, a recently passed law that would allow the government to confiscate citizens' property, which creates obstacles for refugees to return to their country.
"Russian officials have been making the rounds, trying to win support for the return of Syrian refugees and commitments to give reconstruction assistance," said Williamson. "Chancellor Merkel should make clear Germany is not going to be making deals that would see Assad or his allies rewarded for their crimes in Syria."
Human Rights Watch.Germany: Put Rights on Agenda for Putin Meeting © 2018 by Human Rights Watch.