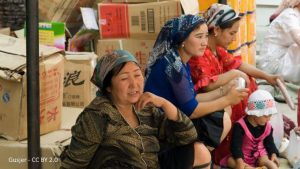 Bitter Winter has received more testimonies about arrests and detention of people at "transformation through education" camps in China's Xinjiang Province.
It is believed that the authorities in China recently detained over a million people, mostly Uyghurs and others of the Islamic faith. While the Chinese government has denied the mass incarcerations in Xinjiang, media all over the world has reported about it, and the international community has condemned the action.
Bitter Winter spoke to family members of some people who have been detained in the recent mass incarceration in Xinjiang. All names here are pseudonyms.
Gülnar: "When Is It Going to End?"
In February, authorities arrested Abliz, a pickup truck driver in Xinjiang. His family included his wife, Gülnar, and their three children. With Abliz in detention, his wife had to sell his truck in haste to have money for daily essentials. She sold it for 3000 RMB or 440 USD. However, even that bit was lost quickly as the authorities forced her to install natural gas equipment at her house.
Gülnar says that of 18 households in her village, the authorities arrested men from 17 of them. They have all been given unspecified sentences, and so no one knows when their husband or father might return. Gülnar says she has no money and has taken up part-time work to support her family. Her 14-year-old son, who is also feeling dejected, said, "Before when Dad was at home, we had barbecued meat once a week. Now we're lucky to eat anything at all. The CCP won't even let me see him anymore."
Gülnar is tired of this situation, and as she spoke to Bitter Winter, she cried helplessly. She said, "I don't know when Abliz will be able to come home. All he did was participate in salat (a form of Muslim worship, also known as namaz). When is it going to end?"
Nizam: Wife Detained for Joining WeChat Group
In 2017, Rizwan joined a WeChat group, which was created to discuss Islamic scriptures. In April this year, two police officers showed up the couple's home and demanded to see both of their cellphones. Both were soon taken to a police station where they were interrogated, and their cellphones were inspected using sophisticated tech.
The couple was initially let go early morning the next day, but police kept their cellphones. That afternoon, Rizwan was summoned to the station on the pretext that she could pick up her cellphone but when she reached there, she was detained instead. Nizam, unaware of the development, visited the station to enquire after his wife but was told off by police officers. He later found out through an acquaintance that his wife had been detained at a "transformation through education" camp.
Adil: "Detain Me Too!"
In November 2017, police officials illegally arrested 31 Muslim women from a village. Amongst those women was Rahman's 55-year-old mother as well. The women continue to be held in a "transformation through education" camp in Kashgar.
Rahman said, "In the beginning, I could see Mom once every couple of weeks. Now I have to wait a month just to see her on a screen." He also says that at the camp, his mother is being forced to learn about the 19th National Congress of the Communist Party of China as well as Party policies and guidelines. The detainees are made to sing songs praising the CCP and are not allowed to practice their religion.
Not only that, the CCP is harassing Rahman and his father, Adil, as well. They are subject to constant threats, continuous surveillance and more. "My dad is already tired from doing farm work every day, and then every night, he has to go to the village committee to 'study' for two hours." He gets no time to rest, and one day, out of frustration with CCP's physical and mental harassment, he said, "Detain me too!"
Zhang Xing: "All I Can Do Is Wait!"
76-year-old Zhang Xing and his wife have been practicing Christians for over 30 years. In May, two community workers and two police officers visited the Zhang household out of the blue.
The police officers said they had been reported anonymously for participating in religious congregations and said, "Congregating is not allowed, nor is believing in God. This is the government's rule!" The couple was then forcibly detained.
While Mr. Zhang was released, his wife is still in custody. He does not know which "transformation through education" camp she has been taken to or when she will be released. "All I can do is wait!" he says.
However, Mr. Zhang too continues to suffer, despite being at home. "The community has stipulated that I must report in and sign papers at least three times a week," he says. Further, the community secretary often shows up at his home under the guise of establishing "family" bonds. The secretary, however, only preaches against God and praises the Chinese Communist Party, and expects Mr. Zhang to believe the same.
Reported by Li Zaili
Source: Bintter Winter