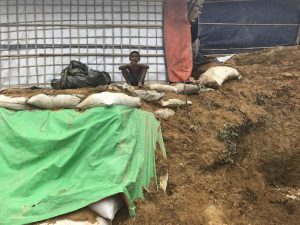 (Bangkok) – A Myanmar court's conviction of two Reuters journalists on politically motivated charges heralds a return to the media repression seen during military rule, Human Rights Watch said today. On September 3, 2018, a court in Yangon sentenced Wa Lone, 32, and Kyaw Soe Oo, 28, to seven years in prison under the colonial-era Official Secrets Act in an apparent response to their reporting on military abuses against Rohingya Muslims.
The journalists have been detained in Insein Prison since being arrested in December 2017 in what witness accounts indicate was a police setup. In the months prior to their arrest, they were investigating a massacre of 10 Rohingya by Myanmar security forces in northern Rakhine State.
"The outrageous convictions of the Reuters journalists show Myanmar courts' willingness to muzzle those reporting on military atrocities," said Brad Adams, Asia director. "These sentences mark a new low for press freedom and further backsliding on rights under Aung San Suu Kyi's government."
Wa Lone and Kyaw Soe Oo were investigating a September 2017 attack at Inn Din village, one of a number of massacres carried out by the Myanmar military during its campaign of ethnic cleansing in northern Rakhine State, which has driven more than 720,000 Rohingya to flee to neighboring Bangladesh since August 2017. On August 27, 2018, the United Nations-mandated Fact-Finding Mission on Myanmar issued a report on the abuses calling for top military generals to be investigated and prosecuted for genocide and crimes against humanity. Myanmar authorities have denied extensive evidence of mass atrocities and refused to allow independent investigators access to the region.
The reporters were arrested on December 12 after being invited to meet with police officials at a restaurant in Yangon, where they were handed rolled-up papers allegedly linked to the security force operations in Rakhine State. The Myanmar Police Force announced that the journalists were arrested for "illegally obtaining and possessing government documents," with the intent "to send them to a foreign news agency."
Witness accounts of the arrest point to a case of entrapment. In April, a police captain testified that Police Brig. Gen. Tin Ko Ko had ordered the officers to "entrap" the journalists by planting "secret" documents on them.
After their arrest, Wa Lone and Kyaw Soe Oo were held incommunicado for two weeks, during which they were deprived of sleep and forced to kneel for hours during interrogation, according to the reporters and their lawyers.
The prosecution's case was marked by inconsistencies and irregularities, including conflicting official accounts and evidence of police misconduct. All of the defense team's requests for bail and dismissal were denied.
The court convicted Wa Lone and Kyaw Soe Oo under section 3(1)(c) of the 1923 Official Secrets Act, which carries a punishment for anyone who "obtains, collects, records or publishes or communicates to any other person any secret official … document or information" that may be "useful to an enemy." The act's overly broad provisions impose draconian criminal penalties that should be amended in line with international standards on free expression.
Over the past two years, hopes tied to the country's transition from military rule have fallen aside as the new civilian administration has intensified its attacks on free speech. Since de facto leader and Nobel Peace Prize laureate Aung San Suu Kyi took office, a slew of repressive laws have been increasingly used to silence journalists and activists for perceived criticism of the government or military.
"Myanmar's leadership should immediately quash the verdicts and release Wa Lone and Kyaw Soe Oo," Adams said. "These convictions won't hide the horrors against the Rohingya from the world – they merely reveal the precarious state of free speech in the country and the urgent need for international action to free these journalists."
Human Rights Watch.Myanmar: 7 Years for Reporting the Truth © 2018 by Human Rights Watch.