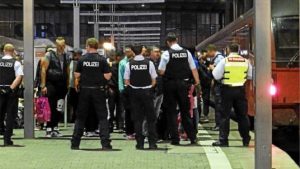 Ignoring appeals by the Red Cross and several NGOs, Germany has forcibly deported Sister Zhao, a member of The Church of Almighty God, back to China on August 31. She is unaccounted for since.
Bitter Winter has reported repeatedly on the case of Sister Zhao Xueliang, a member of The Church of Almighty God, a Chinese Christian new religious movement heavily persecuted in China, who was detained in Ingelheim, Germany, after her asylum request had been rejected. The German Red Cross and several humanitarian organizations and NGOs had written to Chancellor Angela Merkel, explaining that identified members of The Church of Almighty God, a banned organization, are automatically arrested in China and there are numerous documented cases of extra-judicial killing and torture.
These appeals have been ignored and on August 31 Sister Zhao has been forcibly deported to Beijing. She is unaccounted since. As it happened in other cases, she has "disappeared," and attempts by her relatives, friends, and Church to locate her have been so far unsuccessful.
The portal of the German Evangelical Church (EKD), in an article reiterating that the theology of The Church of Almighty God is certainly very much far away from the EKD, yet at the same time very critical of the German authorities, notes that "the circumstances of deportation met with particular criticism. The Chinese woman did not have a chance to get in touch with those who may have helped her upon her arrival in China, because her cell phone had been removed and not returned. She was also not allowed to take her personal belongings. 'Her clothes are still in her room in the accommodation,' said a volunteer."
Sister Zhao Xueliang was born on March 10, 1991 and was a resident of Yuanqu County, Yuncheng City, Shanxi Province, China. She fled to Germany on July 29, 2016 and presented a request of asylum on August 17. She had her hearing on January 9, 2017, and on February 22 was informed that her request for asylum had been denied. Subsequent appeals failed.
As the German Evangelical Church notes, the volunteers who had befriended Sister Zhao in Germany are not optimistic about her fate. They "assume that they [members of banned religious groups who are forced to return to China] are first interrogated by the authorities, and then sent to a re-education camp. The circle of her friends considers it very unlikely that she can be contacted. Even if she has not been arrested, her life prospects would be very bad. She would depend on the help of other members of the Church of the Almighty God because she herself would never be able to take a job or find a home. In the police state of China, those who would dare to help her would also be immediately repressed."
In April 2018, Germany deported back to China an Uyghur Muslim asylum seeker. Once he landed in China, he "disappeared," and his lawyer and family have all the reasons to fear the worst. Germany has now apologized, calling the deportation "a mistake." Apologies, however, did not save the Uyghur, and future apologies would be of little help to Sister Zhao. However, this extremely sad case should serve as a warning to authorities of democratic countries who plan to deport members of persecuted religious groups back to China, based on possible irregularities of their asylum requests and a general political climate hostile to refugees.
Source: Bintter Winter