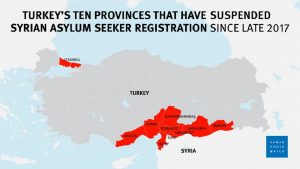 On recent Turkish Airlines flights, after passengers watch the usual safety video they are also shown a short film lauding the virtues of Istanbul's gigantic new third airport, expected to open in October.
But, according to accounts by construction workers struggling to finish the airport on time, conditions at the site couldn't be further from the harmonious and sparkling world the video portrays.
On September 14, thousands of airport construction workers protested poor working and living conditions on the site, with a long list of demands, including an end to alleged arbitrary dismissals and late pay, and action to address workplace safety, and a bedbug infestation in workers' sleeping quarters.
At least 38 workers have died in preventable work-related accidents and many more have been badly injured, the head of the construction workers' union Dev Yapı-İş told Human Rights Watch. The deaths and injuries raise serious questions about whether the project has been carried out in accordance with Turkey's legally-binding health and safety standards.
Employers called in police and gendarmerie to respond to the protest, who used batons and teargas to disperse workers and later detained more than 500 of them for four days, restricting access to lawyers and parliamentarians and providing no information to families.
While most were ultimately released without charge, on September 19, an Istanbul court ordered 24 of the men held in pre-trial detention – among them union representatives – and released 19 on bail.
All 43 – the vast majority Kurdish – may face trial for downing tools and staging a protest. Charges against the men include damaging public property, resisting police, possessing weapons, violating the law on public assemblies, and disrupting the freedom to work.
The treatment of the airport construction workers shows clearly that when it comes to protecting projects close to President Erdogan's government, authorities have no compunction in cracking down brutally and trampling over the rights to protest, organize, and participate in trade union action.
Any charges against the workers should be dropped, those in detention unconditionally released, and authorities should focus on improving working conditions rather than using the police and courts to stifle workers' demands. No one should be prosecuted or lose their job for non-violent protests about questionable work conditions.
Human Rights Watch.Construction Workers At Turkey's New Airport Jailed For Protesting Work Conditions. © 2018 by Human Rights Watch.