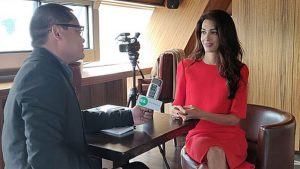 Amal Clooney, a member of the legal team representing two Reuters journalists imprisoned in Myanmar after being convicted under the colonial-era Official Secrets Act, was in New York Sept. 28 to attend a press freedom event on the sidelines of the annual U.N. General Assembly. In an interview with Kyaw Kyaw Aung of RFA's Myanmar Service, Clooney said the families of reporters Wa Lone and Kyaw Soe Oo have asked the government for a pardon. Clooney said the reporters have not committed any crime, and she appealed to de facto leader Aung San Suu Kyi  "to remedy the injustice" of their case. 
RFA: Reuters journalists Wa Lone and Kyaw Soe Oo were convicted on official secrets charges on Sept. 3 in a landmark case that has raised questions about Myanmar's progress toward democracy. How will you and your legal team convince the judges in the appeal process that they should be freed?
A:  Our efforts at the moment are focused on trying to support the families of the journalists, who have asked for a pardon.  That request has gone to the president of Myanmar, and as we know, the president consults with Aung San Suu Kyi, the country's leader, in deciding whether to grant a pardon. The case is no longer in the courts, because as you know they have now been convicted and sentenced . Under Article 204 of Myanmar's constitution, the president can pardon anyone who's been convicted at any time. They have not committed any crime, and so when we say pardon it's not that they've actually done anything wrong. But this is the only way at the moment for them to be released from prison.
RFA: Do you agree with Burmese leader Aung San Suu Kyi that their jailing had nothing to do with freedom of expression, based on the judgment, and that they were not jailed because they were journalists?
A: No, not all.  I did hear those remarks that Aung San Suu Kyi made in Hanoi, and I can only presume that she was misinformed about the case. So today at the event here at the United Nations I sought to explain why the case is a miscarriage of justice. And it's actually very simple. The journalists had documents planted on them, and then police came and arrested them for possessing those documents. Now as it happens those documents weren't even secret, they weren't state secrets. But they were arrested and now they have been sentenced to seven years. And the whole trial really was just a way to silence the journalists, because they were working on a report about the execution of ten men in Rakhine state.  And it's because of that reporting and because of the story that was about to be published by Reuters that they've been held in prison for this long.
Aung San Suu Kyi came into office saying it was her priority to release prisoners of conscience, and she knows better than anyone what it means to be a political prisoner in Myanmar. So we are appealing to her, because of the history of her own life, to remedy the injustice, and in doing so not only free two men, and not only put two broken families back together, but actually set Myanmar back on the path to the rule of law and democracy and all the things that she had promised, and all the things that the Myanmar people deserve.

RFA: In handling the Reuters case, what have you uncovered about the Rohingya crisis that you wish to highlight as a human rights lawyer?
Well, we've learned about horrific violence, unfortunately. And if you read the piece that these reporters wrote, it's very difficult to read. You read about two high-school age boys along with eight older men who were picked out of a crowd on a beach where people were hiding after days of atrocities committed by the army. You hear about these ten people being picked out of the crowd saying they were being invited to a meeting , and how they were marched up a hill. They were actually given their final meal and then marched up a hill and made to kneel in front of a shallow grave and then hacked to death and shot to death. And we know this because the reporters spoke to witnesses, not only from the survivor community but from the perpetrators, and from Buddhist villagers, and from two other eyewitnesses. And we also have photographs of the men kneeling in front of the graves and of the bodies inside.
And so I do encourage you to read the piece, and what we've found is that everything they said has been confirmed by other sources since then, and crucially the army itself has not tried to deny what happened. And they say that seven people have been prosecuted for the crime uncovered by the reporters. These reporters should be given a prize for the work that they're doing as journalists, and they are on the front lines just trying to uncover the truth of what's happening and make sure that people in Myanmar and around the world know what's happening. And they certainly shouldn't be in prison kept away from their young families.  As you've probably seen in covering the trial, Kyaw Soe Oo has a three-year old daughter. He's only able to touch her during the court proceedings and it's heartbreaking to see that and to see his family ripped apart. Wa Lone has become a first-time father since the case started, and he's never met his daughter.
So I would hope that even on humanitarian grounds the government will now say "Enough is enough, they should be pardoned, they should be reunited with their families." And other journalists in Myanmar shouldn't have to fear telling the truth and doing good reporting.That should be encouraged, that's what the country needs, and that's what will allow for accountability and a path toward democracy and more prosperity.
RFA: The U.S. State Department released a report this week saying  that Myanmar's military has waged a "well-planned and coordinated campaign" of mass killings, gang rapes, and other atrocities against the Rohingya. But It stopped short of describing the crackdown as genocide or crimes against humanity. Do you think there is a legal argument to support groups claiming that genocide was indeed committed by the military?
A: Well, as we know, the most detailed report that has come out, has come out from the U.N. Fact Finding Commission. They conducted hundreds of interviews with people on the ground and issued a 450-page report, and they say that, yes, there is evidence that is consistent with a finding of genocide.  What's important is that this now be decided by an independent investigation that leads to an independent court process. Yesterday the Human Rights Council voted to establish what they call an independent mechanism which is basically a team that will put together files of evidence. And all that anybody's asking for, I think, is just a truthful recognition of what's happening, a credible investigation into a continuation of the U.N. team and others, and then prosecutions. I don't think too much should be read into the characterization of the crimes at this stage. Not all groups necessarily characterize the crimes without there being a court process, but I think everyone agrees that a proper court that respects due process, and that's properly constituted, should at some stage be holding those who are responsible for the crimes to account.
RFA: Do you have plans to visit, to go to Burma anytime soon?
A: I would love to go to Burma. It's actually a country I've been wanting to visit for a long time. But of course now, working on this case, it may become necessary to visit my clients in prison. I know that my colleagues, other lawyers for Reuters, have previously been denied permission to visit their clients in prison, which is a denial of their right to counsel. So if the case is not resolved expeditiously, then that's certainly one of the steps that we might need to take, and at that time I hope that any requests made to the country would be agreed to  by the government.
RFA: What's your assessment of freedom of expression in Burma, in general?
Well, unfortunately this Reuters case is not an isolated case. But the outcome of this case I think matters for journalists all over the country. You shouldn't be scared to do this interview or to do the work that you do to cover any story, and as long as you're doing it in line with your own ethics, then you shouldn't have to bear any kind of negative consequences for that. That's why this case matters, and that's why I think the outcome of the case will tell us a lot about whether Myanmar is actually on a path towards democracy and towards respect for the rule of law or not. I think this is really the test, and the government will give us the answer soon.
RFA: As a high-profile human rights lawyer, what's your message to the Burmese journalist community, or the general public in Burma?
My message is keep doing what you're doing. You know, I think it's been actually really encouraging that on the ground since the verdict was announced, you've had students go out on the street and protest. I know there's been local media that blacked out their front pages in solidarity with the journalists. I know that the Press Council came out and criticized the judgment and that 83 civil society groups came out in Burma and criticized the judgment.  That's really important for the journalists to know that they've got that support, and also for the government to know that this is not the Burma that people want it to be. And this is not what they thought was being promised to them when Aung San Suu Kyi came into power.
Source: Copyright © 1998-2016, RFA. Used with the permission of Radio Free Asia, 2025 M St. NW, Suite 300, Washington DC 20036. https://www.rfa.org.