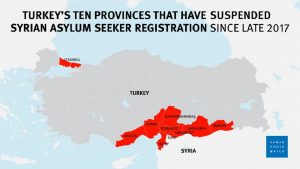 (Beirut) – Turkish authorities should deepen their investigation into the whereabouts of a prominent Saudi journalist who has not been seen or heard from since he visited the Saudi consulate in Istanbul on October 2, 2018, Human Rights Watch said today.
Saudi authorities have denied that the journalist, Jamal Khashoggi, is being held inside the consulate, but Turkish authorities say there is no evidence he left the building. If Saudi Arabia has detained Khashoggi without acknowledging it, his detention would constitute an enforced disappearance, Human Rights Watch said.
"If Saudi authorities surreptitiously detained Khashoggi it would be yet another escalation of Crown Prince Muhammad bin Salman's reign of repression against peaceful dissidents and critics," said Sarah Leah Whitson, Middle East director at Human Rights Watch. "The burden of proof is on Saudi Arabia to produce evidence for its claim that Khashoggi left the consulate alone, and that Saudi agents have not detained him."
Khashoggi is a prominent Saudi journalist with several Saudi Arabia-based Arabic and English-language newspapers and served two stints as the editor-in-chief of the Saudi daily al-Watan, which is owned by a member of the royal family. In September 2017, al-Hayat newspaper, a London-based Arabic-language newspaper owned by another member of the Saudi royal family, stopped his regular opinion columns, and he later fled Saudi Arabia, fearing arrest. Shortly after his departure, Saudi authorities arrested dozens of prominent dissidents, intellectuals, academics, and clerics.
Since late 2017 Khashoggi has regularly participated in public events in Washington, DC, and written columns for The Washington Post in which he criticized Saudi Arabia's escalating repression of dissidents.
Khashoggi's fiancé, a Turkish national, told media outlets that Khashoggi visited the Saudi consulate in Istanbul on the afternoon of October 2 to obtain documents necessary for their marriage, and that he left her his phones and instructions to alert the authorities if he did not return after two hours. That was the last time his fiancé saw him.
Saudi Arabia denied on October 3 that it is detaining Khashoggi, releasing a statement via the Saudi governmental news agency claiming the Saudi consulate was "following up on the media reports of the disappearance of Saudi citizen Jamal Khashoggi after he left the building of the Saudi consulate in Istanbul."
Khashoggi's fiancé, however, told Reuters that she waited 12 hours for him outside the consulate on October 2 and that he never emerged. Responding to Saudi Arabia's claim that he left the embassy, she told Reuters, "If this was true, where is he? Where is he? If he went home, no, I went to the house and didn't find him. Where is Jamal?"
Also on October 3, Turkey's presidential spokesman Ibrahim Kalin said during a news conference, "the information we have is that the Saudi citizen in question is still in the Saudi Arabian consulate in Istanbul." Turkish authorities summoned the Saudi ambassador to Turkey on October 4, asking for an explanation about the disappearance.
Turkish authorities should take steps to prevent Saudi agents from forcibly returning Khashoggi to Saudi Arabia. If forcibly returned there, Khashoggi faces a real risk of an unfair trial and long prison term.
Eli Lopez, the international opinions editor of The Washington Post, to which Khashoggi contributed a regular column, said on October 3 that, "It would be unfair and outrageous if [Khashoggi] has been detained for his work as a journalist and commentator."
When Khashoggi lived in Saudi Arabia, the government had taken steps to keep his articles from being published several times over the years. In November 2016, when the Saudi Press Agency stated that Khashoggi did not represent the government after he criticized Donald Trump at a presentation in Washington, DC, on November 10.
Saudi authorities have escalated repression of dissidents and critics since Mohammad bin Salman became crown prince in June 2017.
In September 2017, Saudi Arabia arrested dozens of dissidents, writers, and clerics. Activists have circulated lists of more than 60 people being held, and Saudi authorities began bringing them to trial in September 2018, largely on charges related to their peaceful opinions and expression as well as political affiliations. Authorities are seeking the death penalty against several, including a prominent cleric, l Salman al–Awda, who is facing 37 charges based on his alleged ties to the Qatari government and to the Muslim Brotherhood, which Saudi Arabia classifies as a terrorist organization.
On November 4, Saudi authorities initiated a mass arrest of princes, current and former government officials, and prominent businessmen over corruption allegations. Some of them were held for months in a five-star hotel in Riyadh and forced to turn over assets to the government.
In May, Saudi Arabia began a sweeping crackdown on women's rights activists, arresting at least 13 women under the pretext of maintaining national security. Nine of the women remain in detention.
Under international law, a state violates the absolute prohibition against enforced disappearance when its agents take a person into custody and then either denies it is detaining the person or refuses to disclose the person's whereabouts.
"If it is the case that prominent Saudis like Jamal Khashoggi are not only chased out of the country but also at risk abroad, Western allies should condemn this thuggish, illegal behavior and investors should take notice that any semblance of respect for basic rights and the rule of law in Saudi Arabia is a fiction," Whitson said.
Human Rights Watch.Turkey/Saudi Arabia: Prominent Journalist Missing . © 2018 by Human Rights Watch.