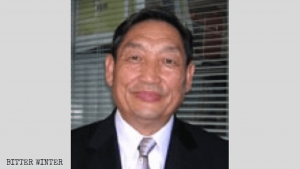 Refugees start to arrive in Europe after a nationwide crackdown on yet another banned Christian group, founded in Henan by Xu Yongze.
Massimo Introvigne
Lawyers in Europe increasingly report to Bitter Winter
Xu Yongze (徐永泽), known in the West as Peter Xu, was born in Zhenping County, Henan, on October 9, 1940. His parents were Christian. Reportedly, as a young boy, he had a vision of God who called him to become a preacher.
Accounts of how he founded his own Christian religious movement (in Henan) and how it developed vary in both Chinese governmental and other sources. The foundation dates range from 1968 to the more probable 1984. The names of the movement are also more than one: "All Range" or "All Sphere" Church (全范围教会), the Born Again movement (重生派) and the Weepers (哭派). Chinese authorities evaluate the following at "several thousand." Western Evangelical journalists have suggested the quite fantastic and unsupported figure of twenty million.
The name "Weepers" refers to the emphasis on crying as an external sign of having been saved. Weeping happens in three-days retreats called "Life Meetings" (生命会). Prominent Chinese house church pastors such as Samuel Lamb (1924-–2013) and Allen Yuan (1914–2005) regarded the theology of weeping as a "salvation through works" heresy. Xu, however, answered that in fact nobody is saved by the weeping. Crying is only an external sign of the salvation, which comes from the grace of Jesus Christ.
The Chinese Communist Party (CCP) declared Xu's church a xie jiao ("heterodox teaching") in 1988, even before the first official list of xie jiao was published in 1995. The church has remained ever since in the list of xie jiao, groups being active in which is a crime punished by Art. 300 of the Chinese Criminal Code with a jail penalty of three to seven years "or more." It is unclear why the CCP classified Xu's group as a xie jiao. Internal CCP documents mention the fact that loud weeping disturbs neighbors, which does not seem a great cause for political concern. More believable is that the CCP was disturbed by Xu's criticism of the government-controlled Protestant united Three-Self Church and by its success in certain provinces.
Xu himself was arrested in 1997, but he was released in 2000 and managed to flee to the United States, where he was granted asylum. The Three-Self Church denounces Xu's group as an "evil cult," and accuses it of brainwashing and "preparing a mass suicide," standard (and normally unfounded) accusations against "cults." Some house churches regard Xu's group as a legitimate Protestant church. Others remain suspicious of its theology of weeping.
Source:Bitter Winter