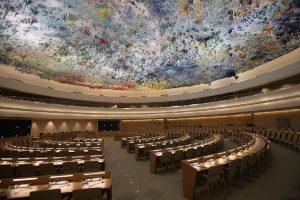 Every five years, all countries should submit to a review of their human rights record by the United Nations. China's review is November 6, next and the first report highlights its egregious violations of religious liberty.
Massimo Introvigne
The Universal Periodic Review is a procedure where every member state of the United Nations should submit every five years to an examination of its human rights situation before the U.N.'s Human Rights Council in Geneva. China's date is November 6, next, and a first important document has been published by the Office of the United Nations High Commissioner for Human Rights. It is an executive summary of what the High Commissioner regards as the essential findings in the reports NGOs have submitted about China.
The document is necessarily short and deals with all aspects of human rights. However, several of the NGOs' main findings mentioned in the text refer to religious freedom.
About Tibet, the report notes that "China continued its attack on and used torture against Tibetan human rights defenders in line with its denial of self-determination to Tibetans. China enacted policies and practices that actively violate the right to freedom of religion for Tibetan Buddhists. The authorities used 'Chinese-centric' schools as a mechanism for assimilating Tibetans into Chinese culture."
It is also reported that "since around April 2016, tens of thousands of Uyghurs and other ethnic minorities had been sent to extralegal 'political education centers' where they are held incommunicado indefinitely without charge or trial."
In general, "Chinese law curtailed the freedom of religion through two laws: 1) Regulations on Religious Affairs and 2) Article 300 of the Criminal Code, which only allow state-registered religious organizations to gather.[…] Chinese law denied freedom of religion and belief, as it stipulated in Article 300 of the Chinese Criminal Code that being active in groups listed as a 'xie jiao' was a crime punished by imprisonment from three to seven years or more." An example of the application of these laws is that "during 2014-2018, the Chinese Communist Party's monitoring, arrest, and persecution had caused at least 500,000 Church of Almighty God (CAG) Christians to flee their home, and several hundred thousand families had been torn apart."
Source: Bitter Winter  /  Massimo Introvigne