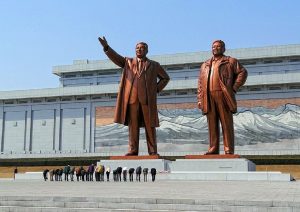 We publish the statement by North Korea at China's Universal Periodic Review in Geneva. Defying ridicule, the country rivaling China for the worst human rights record in the world praises the Chinese government for its "promotion and protection of human rights" and its fight against "cults".
Statement by Ambassador HAN TAE SONG,
Permanent Representative of the DPRK [Democratic People's Republic of Korea]
On the 3rd cycle UPR [Universal Periodic Review] of China
(31st session of UPR Working Group, 06 November 2018)
Mr. President,
My delegation warmly welcomes the delegation of the People's Republic of China led by H.E. Mr. LE Yucheng, Vice-Minister of Foreign Affairs to the 3rd cycle UPR and notes with appreciation its informative presentation of national report today.
We highly applaud that China attaches great value to the promotion and protection of human rights, being always a genuine advocate and promoter of the cause of human rights. China's pursuit of people-centered human rights approach and development path with Chinese characteristics is noteworthy.
We also highly commend China for its strenuous efforts and brilliant successes made in all fields of politics, economy, culture and science and technology, which have contributed tangibly to the promotion and protection of rights of all peoples throughout the country including drastic poverty reduction among others.
Wishing the government of China all the best in its future endeavor for accomplishing the cause of building a modernized socialist power with Chinese characteristics in the new era and realizing the great prosperity of the Chinese nation, we recommend the following:
1) Continue to fight against cult organizations to safeguard welfare of people.
2) Continue to implement the Health China Strategy.
3) Continue to develop bilingual education in ethnic minority areas.
4) Continue to strengthen and improve the work on petition, and safeguard the legitimate rights and interests of citizens.
Thank you.
Source: Bitter Winter