The Chinese government already maintains a firm grip on citizens' Internet use. Words and phrases like "Hallelujah," "Amen," "Thank God" and "Jesus" are now even more sensitive than they already were to plug into a search engine.
It's all a part of the state's new effort to clamp down on online religious content. In September, China's State Administration for Religious Affairs issued a new draft regulation, aptly titled Measures for the Management of Religious Information on the Internet, that further suppresses religious freedoms: for merely posting anything faith-related to the Internet, even a picture of a cross, believers in China are subject to punishment. The new measures will also force churches or religious groups to obtain government-issued licenses in order to regulate what religious information is out in the ether for anyone to see.
Bitter Winter was able to obtain an official government document – issued by the Hinggan League, a prefecture-level subdivision of the Inner Mongolia Autonomous Region – that outlines what these control practices look like going forward: tight management of online religious information; the full utilization of "religious online information officers;" and the development of a cohesive plan to control public opinion by investigating all online religious activities.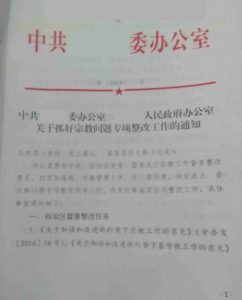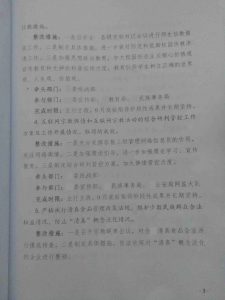 That even goes for houses of worship that are government-approved, like the Three-Self churches. Members of these churches in Hebei Province received word that between October 9 and November 9, their WeChat group messages were subject to surveillance and that all further WeChat platforms in China would be cracked down on by the Internet police.
One Three-Self church leader went so far as to warn believers not to use the sensitive terms – "Jesus" and "Amen," etc. – in their chats, and also cautioned them not to transmit Bible chapters or links with religious content, saying that the group could be shut down, the members arrested or "summoned for a conversation."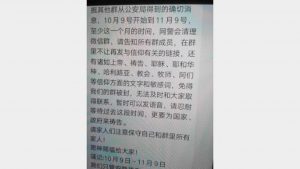 As a precaution, the pastor suggested the congregants change their WeChat names, eliminating all religious references and dialogue.
"Everyone, please be careful," the pastor wrote in a message. "All religious affairs and activities will be subject to the surveillance and inspection of the government, including the religious activities in WeChat groups, congregations, religious meetings, religious information, religious dialogue, and all religion-related content. Please change the name of the groups. As the outside environment is becoming worse, we'd better delete our dialogue history as soon as possible."
Believers in some parts of Henan Province have also received similar messages from church leaders; one said the information "was learned from inside the public security bureau" and that "regarding this matter, you must not leave things to chance."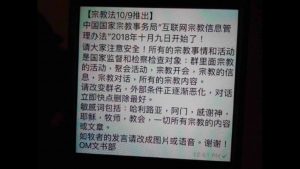 The nudge to be safe is vital, as local governments have already stepped in line to implement the state's "new" policies, investigating individual websites to see if they violate those new measures and calling for even stricter controls.
A document obtained by Bitter Winter demanded that strengthened monitoring be done in Liaoning Province's Dandong city, particularly regarding "new online media" in order to discover, investigate and scrub information related to xie jiao ("heterodox teachings.")
The document also calls for cracking down on political dissent and seeks to increase anti-xie jiao propaganda.
Of course, the Chinese Communist Party isn't solely focused on controlling online religious information, insomuch as it's concerned with controlling all forms of public opinion that dispense with the party line.
Not only have Internet users from mainland China been detained for risking bypassing the state's firewall to use Twitter, other bloggers and Internet users known to post sensitive information, like Cai Xiaoxin, Xi Wuyi, Changping Hou Weiqing, Mei Xinyu, among others who reside in Beijing, are under the surveillance of local government, an insider revealed to Bitter Winter.
And media reports show that on November 2, Zhang Guanghong, a chat group moderator from Guangzhou, was sentenced to a year and a half in prison for sharing anti-government remarks online. He wasn't alone: On Sept. 28, Chongqing netizen Liu Jichun was detained by local police and charged with "picking quarrels and provoking trouble" for sharing articles critical of China. He was formally arrested on November 1.
Source: Bitter Winter / Gu Qi