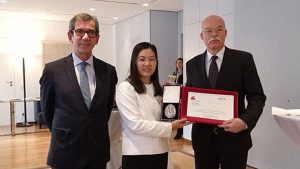 A detained Chinese rights lawyer has won a European human rights award for his "exceptional contribution" to the protection and promotion of human rights.
Yu Wensheng, who is in pretrial detention on subversion charges, has been held incommunicado by authorities in Jiangsu's Xuzhou city for more than a year.
His wife Xu Yan received the Franco-German Prize for Human Rights and the Rule of Law on her husband's behalf from the French and German ambassadors to China on Jan. 14, she told RFA.
"Yu Wensheng has been locked up in Xuzhou Detention Center, has lost his liberty, for a year now, and hasn't been allowed to meet with a lawyer that whole time," Xu said after meeting with France's ambassador Jean-Maurice Ripert and Germany's ambassador Clemens von Goetze.
"I am happy and delighted that free and civilized countries like France and Germany have chosen to honor Yu Wensheng in this way," she said.
"Yet many more lawyers we know have … suffered persecution because they agreed to represent clients in human rights cases in order to promote the rule of law," she said.
"Many have lost their licenses or even their freedom … and so Yu Wensheng isn't the only one being honored by this prize; many other rights lawyers are too," Xu said.
The prize has been awarded annually since 2016 "to figures who have made an exceptional contribution to the protection and promotion of human rights and the rule of law in their country and at the international level," according to a description on the French diplomatic service website.
"This prize reaffirms the constant commitment of France and Germany to human rights and the rule of law and helps strengthen their cooperation in this area," it said.
Risk of torture
Yu was initially held for more than two months without access to a defense attorney, and has been identified by London-based rights group Amnesty International as being at risk of torture.
Xu Yan herself was detained and questioned by state security police in Xuzhou city on suspicion of "incitement to subvert state power" for more than seven hours.
Yu was snatched away from his son by large numbers of police in a car park near his home and placed under criminal detention on Jan. 19, 2018 on suspicion of "obstructing public servants in the course of their duties."
He was later transferred from Beijing to Jiangsu's Xuzhou city with the addition of the more serious charge of "incitement to subvert state power."
Fellow rights attorney Tan Yongpei said there are concerns that the award could cause more problems for Yu in detention.
"For foreign countries to hand a human rights award to someone who China has designated a criminal is basically the same as calling them a human rights warrior," Tan said. "His situation is bad enough already, but this could make things worse for him."
China's embattled legal profession has been targeted with more than 300 detentions, summons, travel bans, and restrictions imposed on rights lawyers, activists, and law firm staff since July 2015.
Rights lawyers who accept politically "sensitive" cases, or who are publicly outspoken on behalf of vulnerable groups, have also been prevented from practicing law because their business licenses are being revoked during a newly instituted annual review process.
Lawyers who try to defend clients held on suspicion of crimes ostensibly linked to "state security" concerns are also denied permission to meet with their clients, or are replaced by government-appointed lawyers amid threats and pressure on the people who hired them.
Reported by Gao Feng for RFA's Mandarin Service, and by Ng Yik-tung and Sing Man for the Cantonese Service. Translated and edited by Luisetta Mudie.
Source: Copyright © 1998-2016, RFA. Used with the permission of Radio Free Asia, 2025 M St. NW, Suite 300, Washington DC 20036. https://www.rfa.org.