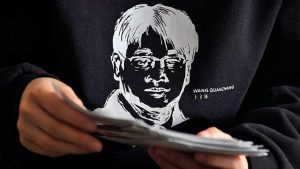 A court in the northern Chinese city of Tianjin on Monday jailed a former top human rights lawyer for four-and-a-half years after finding him guilty of "subversion of state power."
"On the morning of Jan. 28, 2019, the Tianjin No. 2 Intermediate People's Court publicly announced its judgment in the first instance in the case of defendant Wang Quanzhang, accused of subversion of state power," the court said in an announcement on its official website.
"[The court] found Wang Quanzhang guilty of subversion of state power, and sentenced him to four years, six months in prison," the announcement said.
The verdict and sentence follow repeated delays resulting in Wang being held in pretrial detention of more than three years.
"This decision is totally unacceptable to me," Wang's wife Li Wenzu told RFA after hearing the news. "My biggest fear is for Wang Quanzhang's health."
She said Wang won't be released for another year or so, placing him in a vulnerable position as he serves out the rest of his term in prison.
"I just want him to come home safe and healthy, because there is a particular sort of mistreatment reserved for political prisoners in China," she said, citing the 2017 death in custody of Nobel peace laureate and political prisoner Liu Xiaobo.
"Take Liu Xiaobo," Li said. "He never got out of prison alive, and there have been too many others like him. What's going to happen to him in the next year or so?"
"Will they continue to give him a hard time? We will keep fighting for his rights."
She said she has been prevented from visiting Wang since his detention in 2015, and she won't be able to begin monthly family prison visits until after any appeals process is exhausted.
"He won't start his prison term until the appeal decision takes effect," Li said. "I will be able to visit him then; this has been very hard for me, and I expect them to put various other obstacles in my way."
Wang reportedly fired his state-appointed lawyer at the start of his Dec. 26 trial, an action which should have resulted in an adjournment, but the court said the verdict would be announced anyway.
Li said later that the trial was "never going to be anything other than going through the motions" and that the Tianjin No. 2 Intermediate People's Court had been in breach of legal time limits for pretrial detention since her husband's initial detention in July 2015.
"They pushed through his sentence anyway, because Wang Quanzhang never gave in, and refused to compromise or to plead guilty," she said on Monday. "Wang Quanzhang is innocent. The guilty ones are the prosecutors and the judges."
Li said she thinks it likely that Wang will appeal.
"I will understand and support him whatever he decides," she said. "I will take care of our child until he comes home."
'Ridiculous verdict'
Wang's former defense attorney Lin Qilei, who was never allowed to meet with his client, dismissed the verdict as "ridiculous."
"He was locked up by the authorities for more than three years with no trial, which goes to show that the authorities didn't think they had a case that would stand up," Lin said.
Lin said the four-year jail term was relatively lenient compared with the rumors of much longer sentences that had emerged in recent months, and that this could be due to Li's role in boosting international support and concern for her husband.
"It seems that protest and resistance have paid off to some extent," he said.
Fellow rights lawyer Xie Yanyi, who was also among more than 300 lawyers, law firm staff and rights activists detained, questioned and placed under various restrictions in a nationwide police operation starting in July 2015, said he believes the authorities have held Wang incommunicado to mask evidence of torture.
"I still think torture is at the heart of the matter; I too have experienced it," Xie said. "I am absolutely sure that the main reason is that the authorities wants to cover up torture that has taken place."
U.S.-based legal scholar Teng Biao said he is campaigning for Chinese officials involved in the persecution of lawyers since 2015 should be targeted for visa bans and the freezing of their U.S. assets under the Global Magnitzky Act.
"We have a duty to ensure that any country with legislation similar to the Magnitzky Act place anyone who violated Wang Quanzhang's human rights on a blacklist, so that they under placed under sanctions," Teng said.
Reported by Gao Feng for RFA's Mandarin Service, and by Ng Yik-tung and Tam Siu-yin for the Cantonese Service. Translated and edited by Luisetta Mudie.
Source: Copyright © 1998-2016, RFA. Used with the permission of Radio Free Asia, 2025 M St. NW, Suite 300, Washington DC 20036. https://www.rfa.org.