Authorities are using crackdowns on illegal buildings as a pretense to launch a campaign to forcibly demolish religious sites.
Ever since the local United Front Work Department (UFWD) in northwestern China's Shaanxi Province issued a classified document in July of last year regarding the "strengthening of standardization management of religious sites" based on comments from the Central Committee, authorities have been using crackdowns on illegal construction as a pretense to launch a campaign of forced demolitions against religious sites and religious statues.
And, again, people are likening it to the Cultural Revolution. All sorts of temples – ancient, Daoist, Buddhist – are being successively destroyed.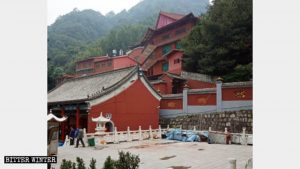 On December 1, 2018, the Dragon King palace hall at the Zhongnan Mountain Guanyin Buddhist Monastery in the Chang'an district of Shaanxi's Xi'an city was completely destroyed under the guise of being an illegal building. Government officials issued a "demolition notice for illegal construction" for the Dragon King palace hall in August. A month later, the order for the demolition, which stretched all the way into December, was sent down by government officials.
Video: The Dragon King palace hall being demolished.
This happened even though the monastery had already obtained approval by local government officials for the hall's construction, which only proves that the government's trumped-up reason for destroying it is yet another way to suppress religion, one lay Buddhist said. He also revealed that the head of the temple was renowned in local Buddhist circles, and was even a representative of the Shaanxi Provincial National People's Congress, but when he fought the temple's destruction, he was put under house arrest. He wasn't released until the temple came down and he'd gotten the warning from CCP officials that he'd do better to practice Party faith.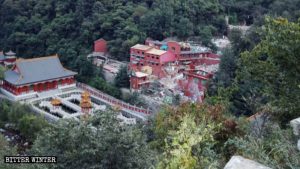 Construction on the palace hall began in May of 2009 and, as the foundation of the temple was originally a rocky mountain, which required significant manual labor to even out, it took nine years to build, at a cost of 30,000,000 RMB (about $4,463,000). The funds for its construction all came from Dāna – a Buddhist practice of giving – from various regions.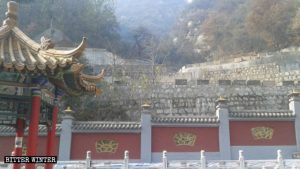 "Since the Dragon King palace was opened up to the public, it had attracted numerous Buddhist pilgrims and tourists who came to pay their respects, but it was only officially opened for six months before being forcibly demolished, and our losses have been excessive," the Buddhist said.
Video: The Dragon King palace hall after demolition.
While the Dragon King palace hall was busy facing its demise, another temple also suffered heavy losses. Two large outdoor Guanyin statues from Iron Buddhist Temple in Xixiang county, under the jurisdiction of Hanzhong city in Shaanxi, were forcibly demolished within a period of two months.
At the beginning of November 2018, the local government started to demolish Iron Buddhist Temple's famous "Three-Faced Guanyin" statue.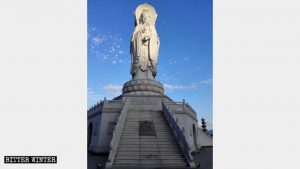 "Government officials demanded they seize what little time they had and work non-stop, day and night," a person from Iron Buddhist Temple said. During the demolition of this statue, every entrance to the temple was blocked off with bamboo boards, and tourists were forbidden from entering and taking pictures.
"The demolition of the Guanyin statue was executed in secret. The people who worked on the demolition at the temple weren't allowed to tell their families they were dismantling the statue, and if anyone divulged this information, they would be rounded up and thrown in prison. Government leadership visited every day to survey and urge [the project's] speedy completion," a local monk revealed.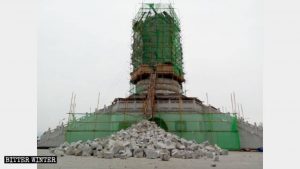 Sources revealed that one businessman, who backed the construction of Iron Buddhist Temple, offered 2,000,000 RMB (about $300,000) in exchange for the preservation of the Three-Faced Guanyin statue, but the government refused.
The demolition of the second Guanyin statue at the temple began on December 28, and after five days, only the base of this religious icon remained.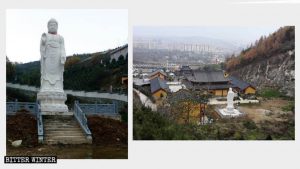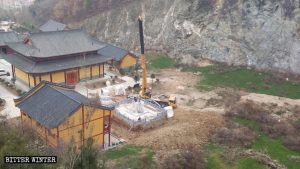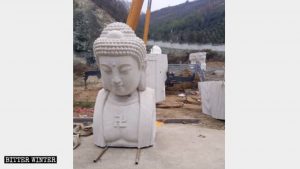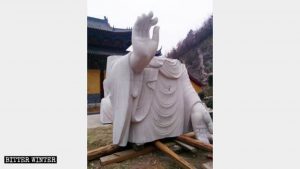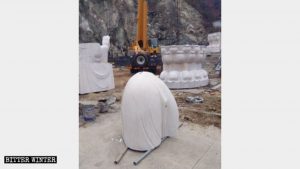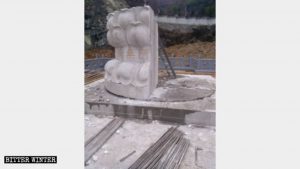 "It doesn't matter how much money they give, this [demolition campaign] is an order from Xi Jinping. We have to destroy it," one government official said.
Source: BITTER WINTER/Zhou Xiaolu