During the Two Sessions, "stability maintenance" and "prevention and control" efforts increased. Travel is prohibited, and citizen spies are out in force.
During major political events in China, or on the occasion of significant anniversaries, the Chinese Communist Party (CCP) authorities ratchet up the level of surveillance and persecution to maintain to maintain "social stability."
On March 3, the so-called Two Sessions (the Chinese People's Political Consultative Conference and the National People's Congress) commenced in Beijing. Even before the start of the events, a document circulated online calling for "wartime mechanisms" to ensure "social stability maintenance."
Bitter Winter also obtained a confidential document issued by a local government in northern China's Shanxi Province in early February 2019. The document calls for "anti-xie jiao" prevention and control work during the Spring Festival and the national Two Sessions.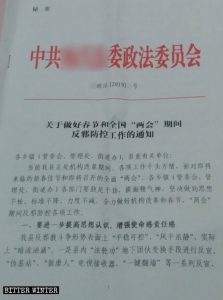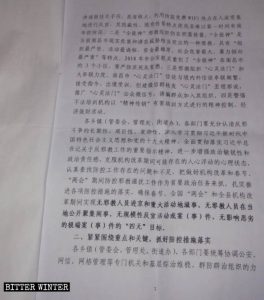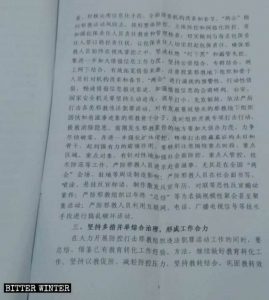 The document demands that "prevention and control" to maintain stability must be the primary political task. It insists that members of Falun Gong and other groups be prevented from holding large-scale gatherings or coming to Beijing or provincial capitals. Therefore, authorities must gather intelligence, agencies (such as public security organs, the Internet Information Office, and the "Grid Control") must be tightly coordinated, and grassroots organizations must be mobilized. Ultimately, every person "subject to prevention and control" must be tracked to ensure no one slips through the dragnet.
Falun Gong, The Church of Almighty God, and other religious groups are key targets of the crackdown. Xiao Jing, a member of The Church of Almighty God, is one of the names on the CCP list to be watched.
In 2014, Ms. Xiao was arrested and sentenced to three years in prison for believing in God. After being released, she was placed on a blacklist and put under surveillance. Since then, authorities monitor her every move.
Her experience in 2018 taught her that she can never again travel during important events in China. During last year's Two Sessions, she went to her home village and planned to return by bus to Shijiazhuang, the capital of north China's Hebei Province. Though she had to get back for work, she was intercepted by the police at the bus station and prohibited from traveling.
She recalls that, on February 28, 2018, the police seized and searched her, and sent her back to her village. They explained that her bus would pass through Beijing, and she wasn't allowed to go to capital during the Two Sessions. The police ordered the village chief to watch her and stop her from leaving the area.
Ms. Xiao protested that the police had deprived her of her freedom of travel. The officer replied, "We're carrying out a task. Your name is on the national blacklist because of your religion. Only after the Two Sessions is over can you leave the area. In the future, when there are major national events or during the Two Sessions, you will not be allowed to travel."
Finally, after 37 days, Ms. Xiao was finally able to return to Shijiazhuang, but by then she had lost her job.
Dissidents and those hoping to petition the central authorities to redress grievances are also subject to control during the Two Sessions.
2019 happens to be the year of anniversaries for several major political events in China, such as the Tiananmen Square Protest of 1989 or the 70th anniversary of the founding of the People's Republic of China on October 1. The year will also mark some religion-related anniversaries: 60 years since Tibet was taken from the Dalai Lama's control and his exile; ten years since the July 5 ethnic unrests in Xinjiang's Urumqi that sparked the government's persecution of Uyghur Muslims, the start of persecution against Falun Gong in 1999, and others. As a result, the surveillance and control of "politically sensitive persons" seems to be more severe than ever.
The well-known Chinese activist Hu Jia was caught in the Two Sessions crackdown this year. He posted a picture on his Twitter account showing a plane ticket from Beijing to Shenzhen dated March 3rd. He was not allowed to board his plane. He wrote that he was treated like a "domestic hostile force," expelled from Beijing, and sent to Southeastern Guangdong Province's Zhongshan city to be placed under government control. He said that this was common practice: During each year's Two Sessions, the authorities project a relaxed environment while actually keeping a tight grip on dissent. Public security organs at all levels, with Beijing as the core, are running at full capacity.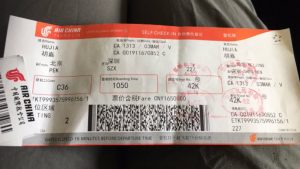 Many are subjected to "stability maintenance control," but there is an even greater number of security officials dedicated to its implementation. Since the Two Sessions began, Beijing seems to be on lockdown, with the "red armbands" once again patrolling throughout the city.
source:BITTER WINTER/Tang Zhe