China expands its draconian surveillance systems intended to monitor, track, and persecute citizens, with particular attention to transient and religious populations.
Lin Yijiang
Imagine that you are looking for an apartment to rent, and your only option is to have a home with cameras installed in your living room. This is not a scene from a futuristic film: it is the reality that Chinese citizens face. The requirement for the owners of rental properties to install cameras in their units adds to the long list of high-tech surveillance systems and programs launched by the Chinese government to ensure the complete control over its population, such as Skynet, Sharp Eyes, and others.
Residents of Hangzhou, Zhejiang Province's capital city in eastern China, reported to Bitter Winter just that: Since last November, some landlords have been receiving notices from the police demanding them to install surveillance cameras in their rental properties under the pretext of "guarding against theft."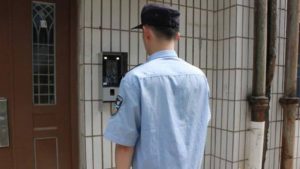 A resident of Hangzhou told Bitter Winter that when he was looking for a place to rent, he discovered that some residential communities had notices distributed by the police and posted to the entrances of rental management centers supervising the properties that read: "Surveillance cameras must be installed before the landlord registers this rental property. Each living room must have a surveillance camera, facing the main entrance of the property."
I visited some households in one community to investigate the matter. According to one resident, surveillance cameras have already been installed in the apartment unit that he rents. The landlord told him that the police had demanded not to rent out properties without surveillance cameras, and he was notified that police officers would conduct random inspections. Once they discover any rental property without surveillance cameras, the landlord would incur a fine of 500 RMB (about $71.4).
Even though this man feels that his privacy has been violated, moving out would also inconvenience him; so, he had no choice but to agree to this unreasonable requirement.
"Ever since the surveillance cameras have been installed, I have to dress neatly even when I'm at home. It also feels strange when my wife and I want to have a private conversation. After returning home, we're still being monitored at all times as if we were in prison. This is unrelated to preventing theft; this is close-up surveillance!" the man complained.
Another tenant encountered the same situation. She remarked angrily that having cameras at home is causing her much stress. Moreover, this is the second time that she finds herself in similar circumstances: Five months earlier, when she was living in another community, the police demanded that surveillance cameras be installed in the rental property. The woman could not stand having her daily life monitored, so she decided to move. Never did she expect that she would reencounter the exact same situation.
To her knowledge, all rental properties are required to install surveillance cameras, and the outdated surveillance equipment throughout the community where she lives is also being fully upgraded. Guarded entrances have been equipped with facial recognition systems, so residents must remove their hats or facemasks and scan their faces before entering the community. The number of surveillance cameras in elevators has also increased. All tenants must bring their ID cards to the property management office, have their photos taken, and ID information registered. Landlords must ensure that surveillance cameras have been installed before they rent out their property. According to the community's security personnel, this is all being done on orders by the government, as part of the project called "Building Intelligent Communities," carried out under the pretext of "maintaining social stability."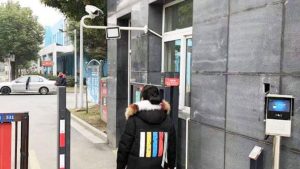 According to a security guard of another community in Hangzhou that has more than 1,000 rental units, one-third of them have already had surveillance cameras installed.
Residents in Fujian, Zhejiang's neighboring province, have also reported that the police had forcibly installed surveillance devices in the door locks of some rental properties. According to workers installing these surveillance devices, through them, authorities can monitor who is entering and leaving the rental property.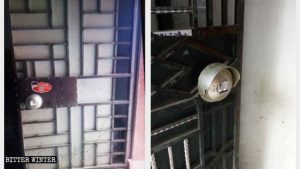 One landlord said that the police is enforcing the installation of such devices, and property owners are required to pay 1,500 RMB (about $215) for each.
"If you don't install it, the police station will give you lots of trouble," said the landlord.
Bitter Winter has previously reported that surveillance cameras have been forcibly installed in some rental properties in Xinjiang.
The transient population in China has always been targeted for surveillance targets due to its uncontrollability. The rental properties that house such tenants are, therefore, more scrupulously inspected by the authorities. As an example, in May 2018, a subdistrict of Gansu Province's Tianshui city's government launched a "special campaign to clean up gang crime and eliminate evil," stressing the need to comprehensively investigate members of the transient population and "special households" – those having religious beliefs, living in rental properties, and alike. Landlords of rental properties were required to report any "abnormalities" manifested by their tenants or face severe punishment.
source:BITTER WINTER/Lin Yijiang