The campaign against large open-air religious icons is now targeting the dead: they are not allowed to rest in peace in the company of deities.
Zhou Xiaolu
After the United Front Work Department proclaimed a year ago that the regulation of large outdoor religious statues is a political task, local authorities throughout China were ordered to include this task into their agendas to suppress religions. Shortly afterward, statues outside Buddhist, Taoist or folk religion temples and shrines or in tourist and pilgrimage sites started to disappear: dismantled, covered up or exploded.
It appears now that even the dead are targeted.
In Longfeng cemetery of Hebei Province's Shijiazhuang city, there stood a nearly 18-meter-tall bronze statue of sitting Maitreya – the "future Buddha" who is believed to appear on earth eventually. The removal commenced on February 26, and its entire process was supervised by government personnel that threatened to arrest and imprison anyone who obstructed the work. It took the authorities 17 days to destroy this statue that cost 10 million RMB (about $ 1.5 million).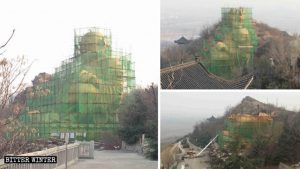 "The local United Front Work Department ordered its removal. All outdoor statues that exceed 10 meters in height must be dismantled. If it not, a fine would be imposed, and they would still disappear," said a cemetery employee.
Locals regard Longfeng cemetery as a "feng shui paradise," and many people have bought plots for burial precisely because of the Maitreya statue. They were angered that the government removed it without warning them or giving them an explanation.
"The Buddhist statue was fine there, and yet they just went ahead and dismantled it. It's a troubled world now. The Communist Party has the final say in everything. Even if the reason is on the side of the common people, but there is no place for them to speak out," an elderly person lamented.
Bitter Winter receives continuously new reports about destroyed statues in popular religious and tourist sites. The Chinese authorities are presenting these crackdowns as the campaign against the commercialization of Buddhism and Taoism. In reality, however, it's a direct attack on religious expression.
A tourist attraction's Guanyin statue severed into pieces
Xiaonanhai Golden Turtle Villa is a national 3A-level scenic area, located in Henan Province's Anyang city, where a 26-meter-tall "Three-Faced Guanyin" statue was built on the hilltop. Carved from 43 white jade blocks, each weighing about 10 tons, the statue was commissioned by the scenic area's owner to attract tourists, at the cost of over one million RMB (about $ 150,000).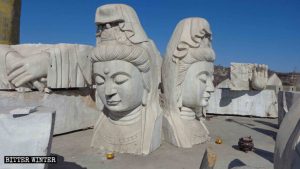 According to a worker at the scenic area, in October 2018, the local government ordered the statue's removal on the grounds that it "was too tall and affected aesthetics." If the scenic area refused to remove it, the matter would be handled as a case of "cleaning up gang crime and eliminating evil" – one more popular disguise to crack down on religion.
Afterward, the officials hired a construction team of more than ten workers and brought in a large crane to cut the Guanyin statue into 49 pieces that were strewn across the ground.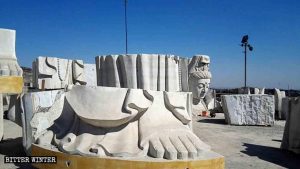 Now, when people come to the scenic area, they only see a large, bare stone pillar: the Guanyin statue that used to sit atop it is gone.
25-meter-tall "Four-Faced Guanyin" statue destroyed
Putuo Temple in Hebei Province is located on Fenghuang Mountain in Xinji town, under the administration of Tangshan city's Qianxi county. According to a legend, the temple is a holy land where the Guanyin, the Goddess of Mercy, performed miracles. To worship the deity, a 25-meter-tall "Four-Faced Guanyin" stone statue was enshrined outside Putuo Temple. In November 2018, however, the statue was forcibly demolished.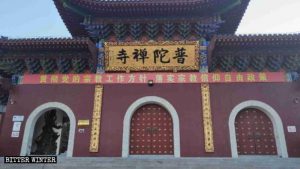 According to a local Buddhist, this stone statue was built for roughly five million RMB (about $ 750,000), provided by the temple, and the construction lasted for over a year.
"It's such a pity that the Guanyin statue has been demolished," said the Buddhist. "Initially, the government gave written approval to build it, and now it was demolished. There is really nowhere to reason things out. Xi Jinping says that 'the state has faith' and 'the people have power.' He is just lying to fool people. I'm afraid that 'having faith' just means that the ordinary people are supposed to have faith in the Communist Party."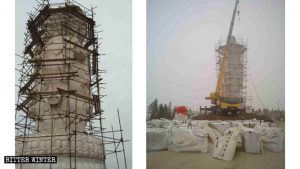 source:BITTER WINTER