A popular vegetarian eatery promoting the teachings of Buddhist masters in Fujian was forced to change its signboard and had its books and videos confiscated.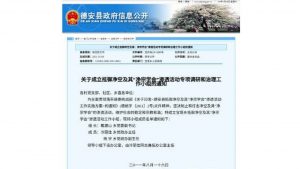 An Xin
"Amitabha Vegetarian Food" is a non-profit restaurant, established by a Buddhist temple in Sanming city's Mingxi county, in China's southeastern Fujian Province. All of the restaurant's staff are volunteers. Up to 300 people come daily to the restaurant that promotes vegetarianism and Buddhist teachings. Videos explaining Buddhist scriptures are often played in the restaurant; some Buddhist books are displayed on bookshelves for visitors to read.
Not even six months after its opening, the restaurant caught the attention of the government. According to a Buddhist who requested anonymity, last November, officials from the local United Front Work Department (UFWD) came to the restaurant and demanded the owner to replace its signboard. Amitabha, mentioned in the restaurant's name, is celestial buddha in Mahayana, one of the two main branches of Buddhism. The restaurant was renamed to "Lian Hai Zhen Wei," the word "Amitabha" was also blotted out from the staff shift schedule. The officials said that such measures need to be implemented because too many people are gathering at the restaurant.
All books and audiovisual materials related to Master Chin Kung inside the restaurant were confiscated from the restaurant. Master Chin Kung, 92, whose birth name is Hsu Yeh-hong, was born 1927, in Lujiang county, under the jurisdiction of Hefei city in eastern China's Anhui Province. He is widely respected and considered the Great Teacher that reverted Buddhism to education, philosophy, and wisdom; he has been actively promoting equality among religions and multicultural harmony. Master Chin Kung studied Buddhism in Taiwan and has traveled worldwide, promoting the ideas of Buddhism. In 2001, he established the Pure Land Learning College in Australia to continue the propagation of Buddhism.
UFWD personnel warned the restaurant, saying, "Chin Kung gives lectures on Buddhism overseas. Chinese people don't believe what Chin Kung says. Everything related to him must be removed, or else a fine will be imposed."
UFWD officials also raided the warehouse of the temple that established the restaurant and confiscated nearly 300 books related to Master Chin Kung's teachings, as well as locally and Taiwan-published books about other Buddhist masters.
In 2011, the CCP issued a Bulletin on the Status of Further Resisting Chin Kung and His 'Pure Land Institute' Infiltration Activities, demanding each region in China to resolutely combat his teachings from entering China and "taking the opportunity to expand his influence." The UFWD has singled out the Pure Land Institute because they believed it subjects believers to forced indoctrination and affects China's mainstream ideology, and has even accused Master Chin Kung of spreading misleading and heretical teachings.
source:BITTER WINTER