Despite harsh crackdowns on non-sanctioned places of worship, ever more state-approved church believers join them, preferring life in danger to indoctrination.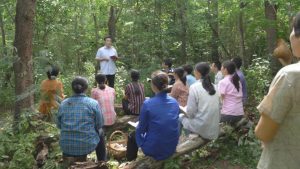 Jiang Tao
It seems that the CCP's plan to force all house churches to join the Three-Self Church through imposing extraordinary control and replacing the words of God with communist ideology has achieved the opposite effect. The continued high-pressure measures have left the congregations of government-sanctioned churches with a sense of increasing moral crisis, and more and more believers and members of the clergy are fleeing the official church and risk harsher persecutions by joining house churches.
No more compromises with the CCP
A Three-Self church pastor from Fuzhou city in the southeastern province of Jiangxi told Bitter Winter that the government, through intense control and supervision, has gradually infiltrated every aspect of believer's lives. "We're not allowed to cultivate church members, our finances are controlled, so we're unable to hold any activities," said the pastor. "Our meeting venues have been shut down; when we didn't agree to install surveillance cameras, they climbed over the wall, unlocked the door, and forcibly affixed them. In other words, we are being besieged."
Another co-worker of this church added, "They clearly want to destroy our faith and sever it at its roots. This is a terrible thing, so we will never compromise!"
Facing the ever-growing and all-reaching control, some Three-Self churches started looking for a way out so they could practice their faith free of communist ideology. Another Three-Self pastor from Jiangxi told Bitter Winter that six preachers he knows recently left the official church, taking their congregations with them. The last straw to make this decision was the introduction of the ideology-based preacher certification and the forceful implementation of the "four requirements" policy, requiring places of worship to raise the national flag, preach the core socialist values, promote laws and regulations, as well as Chinese culture.
"The current trend is to return to house churches. In fact, this pattern has long existed in Wenzhou city in the eastern province of Zhejiang, after the campaign to dismantle crosses was implemented in the province in 2014. House churches and Three-Self churches were unifying their position. In the face of persecution, everyone will come together to discuss countermeasures against the CCP," explained the pastor.
Joining forces with house churches
Co-workers from other state-approved churches confirmed that they are looking for ways to cooperate with house churches. "Our advantage as Three-Self churches is that we understand the CCP's current policies and trends, and can give an early warning to house churches; we can also give them some appropriate advice. Meanwhile, house churches are more flexible with respect to the form of existence; they can break away from the CCP's system and cultivate preachers."
A Three-Self church pastor who was arrested during the 2014 cross-dismantling campaign in Zhejiang said: "Our worst-case scenario is that we give up the church building to preserve the church congregation. For example, there could be ten believers in one group, with one in charge of preaching. We can learn from the CCP and engage in guerrilla warfare."
However, getting rid of government control also means greater danger. Perhaps the CCP expected early on that the harsh suppressive measures would make believers look for ways out. Therefore, authorities across China started comprehensively registering the detailed information of believers. Discovering any believers leaving the official church, officials will determine their whereabouts, one after another. Unless it is confirmed that they have renounced their faith, former members of the Three-Self Church will remain under surveillance.
Some churches are adopting countermeasures to evade the implementation of this policy. A Three-Self church co-worker revealed, "First and foremost, we must protect Sunday school students and young believers. Now, these young people cannot show their faces at church to avoid being discovered and registered. The church's affairs are handled by those who are already known as believers and are older. We will not reply truthfully to any government's questions about our congregation members. Especially about young people and religious Party members – the key targets of suppression."
Praying in the basement is better than worshiping the CCP
In Handan city of the northern province of Hebei, about two dozen Christians were holding a gathering in a basement. The preacher's wife sat guard at the door to make sure that no one is coming for them.
The leader of the church told Bitter Winter, "After seeing through the puppet-like nature of the Three-Self Church, I left it and brought some believers with me. Less than a year after, government personnel discovered us. They put pressure on the landlord and shut down our meeting venue. We have no choice but to hold our gatherings in the basement now."
The basement is small and narrow, barely 20 square meters in size, and has no ventilation. The conditions are especially hard for the elderly who sometimes experience difficulty breathing and discomfort. Members of the congregation remembered how an octogenarian woman once started having heart problems during a gathering, and two believers had to remove her out of the basement.
Despite the discomfort and increased dangers to be persecuted, the believers have no regrets. Their determination to stay independent is heightened by the increasing restrictions imposed on the members of the official church.
"The Three-Self Church wants us to believe in the Communist Party, not worship God," explained the church leader. "In the future, even if we have to continue holding gatherings in the basement, we won't go back to the 'big' church."
Believers vow to persevere
Last year, a Three-Self church preacher in Zhoukou city of the central province of Henan was dismissed for refusing to turn over the church's donation money to the government. He left the church subsequently and brought more than a dozen believers to hold gatherings in his own home. Five months later, authorities arrested the preacher and photographed all believers in his group. The preacher was released from custody only after he was coerced into promising to stop holding gatherings. Since then, the group meets in an even more secretive manner; one believer always keeping watch outside the entrance.
A Three-Self church preacher from Henan's Zhengzhou city also chose to leave the official church and worship in private gatherings for the believers who transferred with her. Not long after the move, the authorities discovered them. Officials required the believers to sign statements, guaranteeing not to hold any more gatherings; otherwise, they would be fined 200,000 RMB (about $29,000).
Despite this, the group doesn't plan to return to the Three-Self Church. In one of her sermons, the preacher encouraged to persevere, saying, "If one day, there isn't any guarantee even for this kind of gathering, we will just hold gatherings in small groups of two or three people."
The runaway believers are also implementing a variety of other measures to evade persecution, such as turning off their mobile phones during gatherings to avoid being tracked or congregating early in the morning, at 4:00 or 5:00 a.m.
source:BITTER WINTER/Jiang Tao