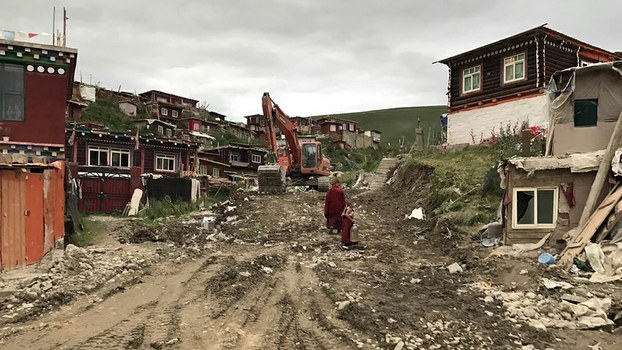 Thousands of monks and nuns forced out of the Yachen Gar Tibetan Buddhist Center in western China's Sichuan province and back to their hometowns have been "rounded up" by authorities and sent for "political re-education," according to Tibetan sources.
In a campaign beginning in May, the removals targeted mainly residents who had come from areas outside Sichuan to join the remote and sprawling temple complex in Kardze (in Chinese, Ganzi) prefecture's Palyul (Baiyu) county, which until recent years had housed an estimated 10,000 monks, nuns, and lay practitioners devoted to scriptural study and meditation.
Speaking to RFA's Tibetan Service, a Tibetan living in the area said most of the monks and nuns were from Jomda (Jiangda) and Palbar (Bianba) counties, in the Tibet Autonomous Region's (TAR) Chamdo (Changdu) prefecture, and had been sent there for political re-education.
"The Chinese authorities have ordered that the number of monks and nuns staying at Yachen Gar not exceed more than 4,700, and because of that many monks and nuns have been evicted from the institute," the source said, speaking on condition of anonymity.
"Those monks and nuns who were forcefully returned to their birthplaces have now been rounded up by local Chinese police and made to attend political re-education classes [at detention centers] in their hometowns."
The source said that due to "overflowing numbers" at a detention center in Jomda, "many have been sent to Chamdo city for political re-education."
"As soon as they are brought to the detention centers, their cellphones are confiscated, rendering them incommunicado with the outside," the source added.
A second source based in southern India told RFA that some "70 monks and nuns are being held in Jomda and are undergoing thorough political re-education" after being summoned by police upon their return to their hometowns.
"The monks and nuns are forced to wear the clothes of laypersons at the detention center and the Chinese authorities make them denounce [Tibetan spiritual leader] the Dalai Lama on a daily basis, as well as memorize political propaganda, which they are later tested on," said the source, who also declined to be named.
"These monks and nuns could be held for political re-education for another several months before they are released to their families. After that, they will be restricted from re-enrolling with any other monasteries or relocating elsewhere."
Last month, sources told RFA that since the removals began in May, around 3,500 monks and nuns had been forced to leave Yachen Gar, while around 600 Chinese officials had been permanently stationed at the center to "maintain a tight watch" over those who remain and check on all outside visitors.
To avoid emotional scenes between residents being expelled and their friends who stay behind, no one may accompany those being evicted as they are brought to buses to be taken away, they said.
An unfolding strategy
Restrictions on Yachen Gar and the better-known Larung Gar complex in Sichuan's Serthar (Seda) county are part of "an unfolding political strategy" aimed at controlling the influence and growth of these important centers for Tibetan Buddhist study and practice, a Tibetan advocacy group said in a March 2017 report.
"[Both centers] have drawn thousands of Chinese practitioners to study Buddhist ethics and receive spiritual teaching since their establishment, and have bridged Tibetan and Chinese communities," the Washington-based International Campaign for Tibet said.
During 2017 and 2018, at least 4,820 Tibetan and Han Chinese monks and nuns were removed from Larung Gar, with over 7,000 dwellings and other structures torn down beginning in 2001, according to sources in the region.
Last month, Tenzin Dorjee, chair of the bipartisan U.S. Commission on International Religious Freedom, called China's restrictions on Yachen Gar an "egregious violation of the freedom of religion," telling RFA at the time that restrictions in Tibet were "going from bad to worse."
Reported by Kunsang Tenzin and Pema Ngodup for RFA's Tibetan Service. Translated by Dorjee Damdul. Written in English by Joshua Lipes.
Copyright © 1998-2016, RFA. Used with the permission of Radio Free Asia, 2025 M St. NW, Suite 300, Washington DC 20036.
source: RFA