Tibetan nuns evicted by Chinese authorities from a Tibetan Buddhist study center in Sichuan have been singled out for harsh treatment by their guards after showing signs of distress during political re-education sessions, according to Tibetan sources.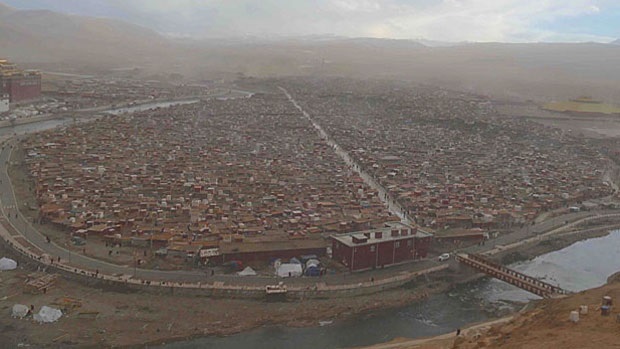 The nuns, part of a larger group of over 3,000 monks and nuns removed this year from the Yachen Gar center in Sichuan's Palyul county, are now being held in Jomda (in Chinese, Jiangda) county in the Tibet Autonomous Region's Chamdo (Changdu) prefecture, sources say.
Forced to give up their religious robes, they are now required to wear lay clothing, a Tibetan living exile told RFA's Tibetan Service on July 5.
"During the morning and afternoon sessions of their political re-education classes, they have to perform Chinese patriotic songs and learn to dance," RFA's source said, speaking on condition of anonymity.
"And in the evening, they are forced to watch Chinese propaganda films showing Chinese soldiers winning victories in battle during the war between China and Japan," the source said, adding that some of the nuns subjected to the stress of the war films and political training sessions had broken down and wept.
Believing the nuns' tears to be evidence of disloyalty to China, guards then physically attacked the women, "beating them black and blue," RFA's source said. "Afterward, the nuns could hardly stand up because the torture was so severe."
Those nuns who had wept were then told they will now be held in detention for a year and a half, while others would be released after six months, and were refused permission to receive gifts of food or clothing from visiting family members, the source said.
Monks and nuns now held in Jomda are being questioned regarding outside contacts and are kept under strict surveillance, the source said, adding that it is difficult to learn exactly how many have been detained.
Thousands forced out
In a campaign beginning in May, around 3,500 monks and nuns were forced to leave Yachen Gar, which until recent years had housed an estimated 10,000 monks, nuns, and lay practitioners devoted to scriptural study and meditation, sources told RFA in earlier reports.
Around 600 Chinese officials are now permanently stationed at the sprawling Buddhist center to "maintain a tight watch" over those who remain and to check on all outside visitors.
Chinese authorities are now demolishing dwellings at Yachen Gar formerly occupied by many of those expelled, one source told RFA, also speaking on condition his name not be used.
"After carrying out the evictions of the monks and nuns, they razed approximately 60 to 70 makeshift dwellings to the ground to create fire lanes in what they called a development scheme," the source said.
An unfolding strategy
Restrictions on Yachen Gar and the better-known Larung Gar complex in Sichuan's Serthar (Seda) county are part of "an unfolding political strategy" aimed at controlling the influence and growth of these important centers for Tibetan Buddhist study and practice, a Tibetan advocacy group said in a March 2017 report.
"[Both centers] have drawn thousands of Chinese practitioners to study Buddhist ethics and receive spiritual teaching since their establishment, and have bridged Tibetan and Chinese communities," the Washington-based International Campaign for Tibet said.
During 2017 and 2018, at least 4,820 Tibetan and Han Chinese monks and nuns were removed from Larung Gar, with over 7,000 dwellings and other structures torn down beginning in 2001, according to Tibetan sources.
Both centers have now been brought closer "in solidarity and mutual assistance" by their shared difficulties, one source said, speaking to RFA from exile.
Last month, Tenzin Dorjee, chair of the bipartisan U.S. Commission on International Religious Freedom, called China's restrictions on Yachen Gar an "egregious violation of the freedom of religion," telling RFA at the time that restrictions in Tibet were "going from bad to worse."
Reported by Sonam Lhamo for RFA's Tibean Service. Translated by Dorjee Damdul. Written in English by Richard Finney.
Copyright © 1998-2016, RFA. Used with the permission of Radio Free Asia, 2025 M St. NW, Suite 300, Washington DC 20036.
Source:RFA