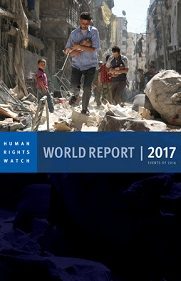 More than three decades after pledging to "reform and open up," there are few signs the Chinese Communist Party intends to change its authoritarian posture. Under the leadership of President Xi Jinping, who will remain in power until 2022 and possibly beyond, the outlook for fundamental human rights, including freedoms of expression, assembly, association and religion, remains dire.
China made modest improvements in a few areas in 2016. These include trial regulations promulgated in February that may reduce the rate of pretrial detention, the Supreme People's Court's continued efforts to retry cases of wrongful convictions and executions, and the acceptance by courts of discrimination cases brought by lesbian, gay, bisexual, and transgender (LGBT) individuals. But such developments pale in comparison to the government's systematic efforts to silence independent civil society voices, its passage of abusive new laws, and a highly politicized anti-corruption campaign that is further undermining an already weak judicial system.
Over 16 human rights lawyers and activists—detained after a nationwide sweep of rights advocates in July 2015—were the clearest victims of the authorities' hostility towards independent civil society. Most were held in secret and not allowed to communicate with their families or lawyers of their choosing. Families, lawyers, and supporters who inquired about the cases or sought the detainees' release also became targets of the authorities' wrath.
The secrecy surrounding these detentions stood in stark contrast to the aggressive state media campaign to smear the detainees, many of them well-known for their years of activism. The publicity, which departed from the quieter treatments of past political trials such as that of Liu Xiaobo's in 2009, appears designed to punish the activists and advance President Xi's campaign to depict independent civil society as a national security threat.
Chinese authorities' enforced disappearance of critics from Hong Kong and other countries in 2016 garnered headlines globally. Beijing's decision to interfere in a politically charged court case in Hong Kong in November undermined judicial independence and the territory's autonomy. In the ethnic minority regions of Xinjiang and Tibet, Beijing continued its highly repressive rule, curtailing political activity and many peaceful expressions of ethnic and religious identity.
Authorities also moved to further limit freedom of expression. In November, the government passed a Cybersecurity Law, which will strangle online freedom and anonymity, and further clamped down on media outlets for reporting that departs from the party line. Authorities also issued multiple directives to tighten control over the internet, which has long been a beacon of hope as a relatively free public space, despite online censorship and surveillance.
The Chinese government continues to lead the world in the number of people executed, with 46 crimes eligible for the death penalty. Scholars in China claimed in September that executions had "fallen about 60 percent" to "a few thousands" in 2005, but official statistics remain state secrets.