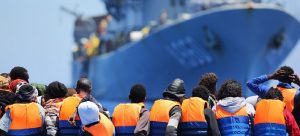 GENEVA — The U.N. refugee agency is calling for safe and legal pathways for migration as the death toll among refugees and migrants crossing the Mediterranean Sea into Europe reaches new heights.
There has been a significant reduction this year in the number of asylum seekers and migrants reaching European shores via the Mediterranean Sea. The U.N. refugee agency reports arrival rates are down by 41 percent compared to last year.
UNHCR spokesman, Charlie Yaxley tells VOA one in every 42 people died or went missing last year while crossing the Mediterranean Sea, compared to a substantial increase of one in 18 during the first eight months of this year.
During the peak arrival period in June, he says the number of fatalities in the Central Mediterranean accounted for as many as one in seven.
"Now, that is a pretty bleak portrait that exists because that means that for every seven men, women and children who are leaving appalling conditions in Libya, one of their fellow travelers did not reach European shores," he noted.
Despite the substantial decrease in refugee and migrant arrivals, xenophobia in Europe is growing. This has resulted in boatloads of people being stranded at sea for many days while nations argue about which one will accept them.
In recent months, the UNHCR and International Organization for Migration have been calling for a predictable, regional approach for the rescue and disembarkation of people in distress in the Mediterranean Sea.
The UNHCR says alternatives must be found to these potentially deadly journeys. It recommends the adoption of safe and legal pathways for refugees to come to Europe. These could include increasing resettlement places and removing obstacles to family reunification.
Source: VOA