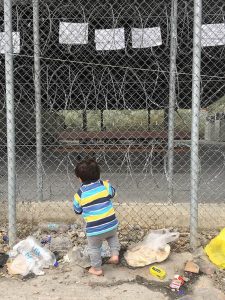 Greek Prime Minister Alex Tsipras will "debate the future of Europe" today with the European Commission president, Jean-Claude Juncker, and European Parliament members, part of a debate series about how to improve the EU. Appropriately, it is the first day of school in Greece.
But not for all children. What does it mean for the future of Europe that Greece is failing to ensure that thousands of children will be able to sit in a classroom, but rather is warehousing them in isolated, EU-sponsored camps on the Aegean islands?
Officials have claimed that asylum seekers on the islands are "in transit" and don't need schools, but this amounts to a policy of just wishing that thousands of children would go away.
Greece has done an abysmal job of providing education to asylum-seeking children on the islands, yet with EU encouragement it insists on keeping them there. "Aram," a father from Kobane, Syria who had been living with his four school-age children in a camp on Lesbos for more than a year told us last summer: "Without education they lose their future, but they have not done anything wrong."
On the mainland, the Education Ministry opened classes to help some asylum-seeking children to learn Greek, and to help those who had been out of school – often due to war or because they were forced to take dangerous journeys – catch up to their grade level.
These programs were virtually unavailable to children stuck in the government-run camps on the islands. By the end of the 2017-2018 school year, Human Rights Watch found that fewer than 400 of more than 3,000 school-age asylum-seeking children there were in school. None of the boys and girls we interviewed who did manage to go to school started the school year on time last September.
The European Commission says it has allocated €393 million in emergency assistance to Greece, an additional €322.8 million under the Asylum, Migration and Integration Fund, and €238 million more for border security. Is Brussels troubled at all that rates of school enrollment for asylum-seeking children are worse on Lesbos, Chios, and Samos than in Jordan, Lebanon, and Turkey?
Children stuck on the islands are victims of Greece's EU-backed policy to keep asylum seekers who arrive by sea from Turkey there until their claims are adjudicated. If their asylum claims are rejected, they are supposed to be sent back to Turkey – a country that is not safe for refugees. If accepted, they are supposed to go to the mainland. All this is to happen promptly.
In fact, families are forced to wait nine months or more for an asylum interview. With new arrivals outstripping departures, the unsanitary, dangerous island camps remain badly overcrowded.
Greece, with encouragement from other EU member states, has clung tenaciously to this containment policy. The Greek asylum service has even blocked sick children from seeking needed treatment on the mainland. "My daughter is dying in front of my eyes and I can do nothing," one girl's father told me.
No official can claim not to know that the containment policy is inflicting immense suffering on people. In July 2017, we documented a mental health crisis on the islands. "Camps are places where vulnerabilities are created," an International Organization for Migration official told us. "My hope is dead since they brought me here," a mother of four children said. A year later, Doctors Without Borders reported that conditions in Moria camp on Lesbos had deteriorated even further, to the extent that children were being retraumatized and an increasing number were having "intense panic attacks, suicidal ideations and suicide attempts."
Greece, and the EU, will bear the costs of this policy failure for years to come. Children deprived of education are vulnerable to exploitation, hazardous child labor, and a lifetime of poverty. Their healthcare costs will be far higher than those of people with an education. Their annual income will shrink by 9 percent for every year of education they were denied.
The future of refugee children in Europe depends on the EU. And Europe's treatment of refugee children today may hint at the type of place Europe will become tomorrow. The Greek government should end the containment policy, and in the interim, Greek schools should ensure their doors are open to all children, including those on the islands.
Human Rights Watch.Debating Europe's Future, Remember the Children. © 2018 by Human Rights Watch.