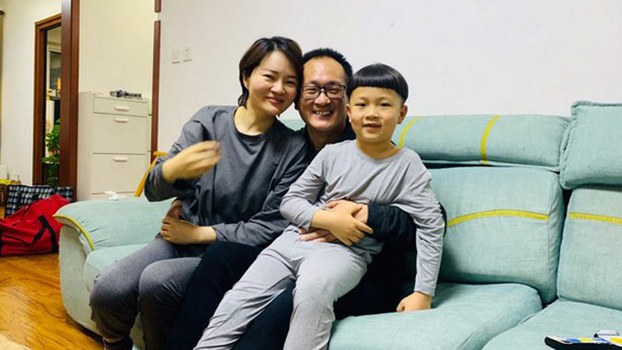 Released Chinese rights attorney Wang Quanzhang says he plans to take legal action to overturn his subversion conviction, for which he served nearly five years in prison.
Wang was reunited with his family last month, weeks after his release at the end of a four-and-a-half-year jail term served at Linyi Prison in the eastern province of Shandong.
He was allowed to return to his family home after being held first under 14 days' quarantine in his birth town of Jinan in the eastern province of Shandong, then warned not to travel to Beijing.
Wang was sentenced on Jan. 28, 2019 by the Tianjin No. 2 Intermediate People's Court, which found him guilty of "subversion of state power."
The verdict and sentence followed repeated delays, resulting in Wang being held in pretrial detention for more than three years with no access to a lawyer or to family visits.
Rights groups have expressed concern that he was tortured, although Wang has declined to talk about these reports until he can do so in a carefully thought-out manner.
Wang told RFA on Wednesday that he is planning to take action to overturn the Tianjin court's conviction, citing repeated breaches of criminal procedure code, using a judicial complaint process.
"It is totally ridiculous to claim that my actions constituted the subversion of state power," Wang said. "I was denied access to the defense attorney I requested, the lawyer hired by my family, for three years."
"This was a disguised attempt to deprive me of my right to a legal defense."

Violations of legal procedure
Wang said Chinese law calls for a retrial in cases where the judiciary or law enforcement have seriously violated legal procedural codes.
In particular, he took issue with the court's response to his firing of his own defense attorney at the start of his trial in January 2019.
"If the defendant fires their lawyer during the course of the trial, Chinese law requires that the court must adjourn and give the defendant 15 days to choose a new attorney," Wang said.
"If the defendant fails to come up with a new attorney within that time, or if they fire their attorney once the court reconvenes, then the court may regard this as waiving of their right to a defense and continue with the trial," he said.
"But in my case, when I fired my legal defense at the start of the trial, they carried on with the trial," he said.
Wang said he is currently only in the preparation stages of the complaint, however, and needs to take his family into consideration.
"Now that I'm back together with my family, I will definitely be spending more time with them … watching my kid grow, and just enjoy these relationships," he said.
"There's no hurry with the complaint, which will inevitably be a long process," he said. "There are a lot of preparations to be done first.
A good case for complaint
Chen Yue, head of the Hong Kong-based Chinese Human Rights Lawyers Concern Group said Wang has a good case for his complaint, but that there are many factors that will come into play.
"He can file a complaint within two years of [sentencing]," Chen said. "He needs to submit evidence … including for the facts of the case and the reasoning behind his complaint."
"It's hard to predict whether the authorities will obstruct or harass him in the process," Chen said.
There are also concerns that Wang could be placed under house arrest if he files the complaint soon, on the ground that he is still under a set of restrictions known in Chinese law as "deprivation of political rights."
But Chen said the deprivation of political rights, which include the right to run as a candidate in elections that are effectively a rubber-stamp for ruling Chinese Communist Party candidates, isn't enough justification for separating Wang from his family.
"Deprivation of political rights does not include restrictions on personal freedom, or on the freedom to reunite with family members," Chen said.
"The authorities have no right or reason to separate Wang Quanzhang from his family."
According to Cheng Hai, who defended Wang from 2015 to 2018, the authorities refused to allow at least five lawyers appointed by Wang Quanzhang during his detention to meet with him.
Reported by Gao Feng for RFA's Mandarin Service. Translated and edited by Luisetta Mudie.
Source: Copyright © 1998-2016, RFA. Used with the permission of Radio Free Asia, 2025 M St. NW, Suite 300, Washington DC 20036. https://www.rfa.org.