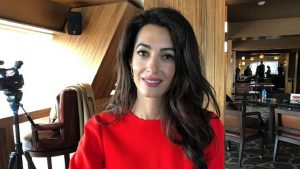 International human rights lawyer Amal Clooney has asked Myanmar's de facto leader Aung San Suu Kyi to "remedy the injustice" over the jailing of two Reuters journalists following their reporting on a massacre of Rohingya Muslims by security forces.
Clooney said the families of journalists Wa Lone and Kyaw Soe Oo had requested the government for a pardon after being convicted and jailed for seven years earlier this month for violating official secret laws.
They had pleaded not guilty, arguing they were doing their jobs as reporters, did not collect or copy documents, and did nothing to harm the state's interests.
Any pardon would have to be granted by President Win Myint in consultation with Aung San Suu Kyi, who has drawn international criticism for not standing up for the journalists, despite her reputation as a democracy activist.
"Aung San Suu Kyi came into office saying it was her priority to release prisoners of conscience, and she knows better than anyone what it means to be a political prisoner in Myanmar," Clooney told RFA's Myanmar Service in an interview after attending a press freedom event on the sidelines of the annual U.N. General Assembly in New York.
"So we are appealing to her, because of the history of her own life, to remedy the injustice, and in doing so not only free two men, and not only put two broken families back together, but actually set Myanmar back on the path to the rule of law and democracy and all the things that she had promised, and all the things that the Myanmar people deserve," said Clooney, the wife of famed actor and director George Clooney.
She disagreed with Aung San Suu Kyi, who had said that the jailing of the journalists had nothing to do with freedom of expression. The Myanmar leader pointed out that the judgment was based on their breaking secret laws, and they "were not jailed because they were journalists."
"I can only presume that she was misinformed about the case," Clooney, who is on the legal team representing the two journalists, said, adding that she may have to visit the journalists in jail as part of her work if the case was not resolved soon.
"I know that my colleagues, other lawyers for Reuters, have previously been denied permission to visit their clients in prison, which is a denial of their right to counsel."
"So if the case is not resolved expeditiously, then that's certainly one of the steps that we might need to take, and at that time I hope that any requests made to the country would be agreed to by the government," Clooney said, calling the case "a miscarriage of justice."
Official Secrets Act
Aung San Suu Kyi had argued that the judgment against the reporters dealt with the colonial-era Official Secrets Act and not with freedom of expression.
"They were jailed because the court … has decided that they had broken the Official Secrets Act," the Myanmar leader said at an international forum in Hanoi this month. "So if we believe in the rule of law, they have every right to appeal the judgment and to point out why the judgment is wrong, if they consider it wrong."
A prosecution witness at the journalists' trial had testified that a senior police official ordered another officer to hand the journalists confidential documents to set up the pair during their reporting on the Rohingya killings.
"The journalists had documents planted on them, and then police came and arrested them for possessing those documents. Now as it happens those documents weren't even secret, they weren't state secrets," Clooney said.
"And the whole trial really was just a way to silence the journalists, because they were working on a report about the execution of 10 men in Rakhine state," she explained.
During their arrest, the two reporters had been working on a story about the murder of 10 Rohingya civilians from Inn Din village in northern Rakhine state, and Reuters later produced a gripping account of the killings by soldiers and ethnic Rakhine Buddhist neighbors.
Clooney said that journalists in Myanmar should not have to fear telling the truth and doing good reporting.
"That should be encouraged, that's what the country needs, and that's what will allow for accountability and a path toward democracy and more prosperity."
U.N. Secretary-General Antonio Guterres and U.S. and other world officials had also called on the Myanmar government to release the Reuters journalists as soon as possible.
A U.N. fact-finding mission that investigated atrocities committed against Rohingya Muslims issued a scathing report this month, detailing violence by security forces and calling for the prosecution of top military commanders as well as the removal of the country's powerful Tatmadaw (military) from politics.
The 444-page report says Myanmar commander-in-chief Senior General Min Aung Hlaing and other top military leaders should be prosecuted for genocide against the Rohingya for a campaign that began in late August 2017 that killed thousands and drove some 700,000 of the Muslim ethnic minority into neighboring Bangladesh.
Government soldiers also stand accused of indiscriminate killings, torture, and rape of Rohingya and torching their homes during the crackdown.
Reported by Kyaw Kyaw Aung for RFA's Myanmar Service. Written by Parameswaran Ponnudurai.
Source: Copyright © 1998-2016, RFA. Used with the permission of Radio Free Asia, 2025 M St. NW, Suite 300, Washington DC 20036. https://www.rfa.org.