China reinforces the ban on "religious or feudal" ideas, re-education of religious teachers, to ensure students remain ignorant of all except Marxism.
In China, teachers are considered to be like gardeners, playing the important role of cultivating the "successors of the Communist Party." They are not allowed to have any "ideological" issues, and they must guard their words carefully. Life becomes very difficult if these "gardeners" happen to be religious.
Bitter Winter has received documents exposing the Chinese education authorities' approach to dealing with religious teachers. The materials are from a school in the Inner Mongolia Autonomous Region. They lay out a process to monitor teachers, document believers, and provide ideological "assistance" to those found to be religious.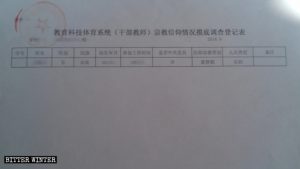 One of the documents lists the official findings of the investigation of teachers in the school where two teachers were found to be religious: a Christian and a Muslim.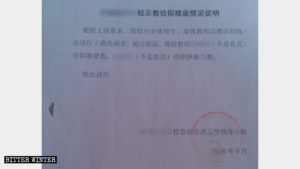 The next document shows that the school authorities ordered Party members to "assist" the "Christian teacher in question" on a one-on-one basis, performing so-called "paired assistance."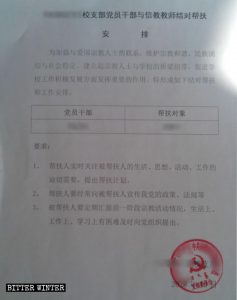 The document lists the types of assistance, such as paying attention to the "needs" of the assistance recipient in terms of their life, ideology, activities, and work; devising an assistance plan; and the promotion of the Party's policies, laws, and regulations. The "assisted" teachers are encouraged to report to the Party unit any difficulties they encounter in life or work.
Another form records the content of the Christian teacher's "assistance" session. The topics for "education" may include: studying the government's religious policies, the spirit of the 19th Chinese Communist Party (CCP) National Congress or the understanding of patriotism. The entries in the form also list basic information of assistance recipient's religion, such as the year he or she started to believe in God, how important religion is to them, what religious activities they regularly attend, etc.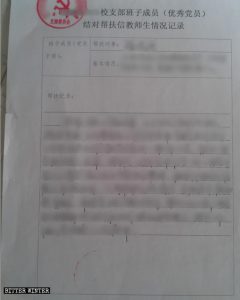 After a period of time, the "assisted" teacher must submit a self-report. Entitled Management Register for the School's Religious Teachers and Students, it lists the teacher's recent religious activities, such as which church he or she attended and when, and in which religious activities the teacher participated.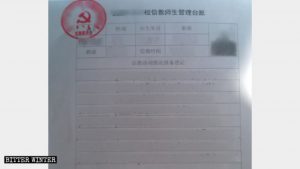 Another document is an "ideological understanding" report written by the teacher. It reads in part, "[I must] Align my thinking with 'Xi Jinping Thought on Socialism with Chinese Characteristics for a New Era'; know which flag to raise, which road to take… The school is an educational and cultural battlefront. No person or organization is allowed to promote religious ideology on campus. As a teacher, I need to be aware of this in particular."
Investigations and re-education of teachers have occurred in other parts of Inner Mongolia. Bitter Winter received a copy of a "religious work rectification plan" issued by the Committee on Education, Technology and Sports of a county in Inner Mongolia in October 2018.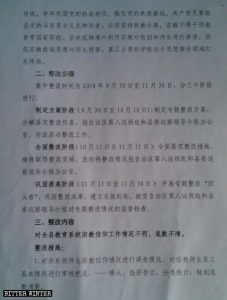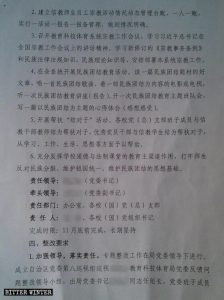 The plan states that the religious status of teachers and students must be investigated and all details about them verified. Also, schools must establish a "dynamic management registration" to record information about the religious activities of teachers and students, with one register per person. Each activity must be reported separately, and "paired assistance" activities must be carried out.
Beyond monitoring religious teachers and mandating ideological "assistance," educational authorities also enforce strict guidelines on acceptable ideas and values that teachers may express in school.
On November 14, 2018, the academic affairs office of a middle school in the northwest Gansu Province posted a notice to its teachers' WeChat group entitled Requirements and Practices Regarding Ideology at School. The notice states, "Teachers must promote and explain 'Xi Jinping Thought on Socialism with Chinese Characteristics for a New Era' to students in a timely manner and enforce political discipline. Teachers must not 'do as you please' or 'speak without thinking.' In the classroom, teachers must not propagate inappropriate speech, or any speech regarding religious, feudal, or superstitious ideologies… The school authorities continue to value the strengthening of the ideological education of students."
One teacher reported to Bitter Winter that the notice also stipulates that teachers must not criticize current conflicts that exist in China. In general, they must not complain, vent grievances, or convey various "adverse emotions" to their students. The notice continues that teachers must not praise Western countries or promote Western values and institutions, and must resist promoting the idea that "the moon in foreign lands is fuller than in China." Finally, "books on feudal superstition or religion are absolutely prohibited in school offices, on classroom bookshelves, or among students."
The principal of this middle school had already announced to a school meeting, before this notice was published, "All religious beliefs are prohibited. Teachers will be dismissed from public employment once discovered! Believing in Buddhism or Taoism is also unacceptable!"
This crackdown on teachers' beliefs and conduct is part of a larger effort. Bitter Winter has received a copy of a document, entitled Special Crackdown Plan for Carrying Out Resistance and Prevention of Religious Infiltration on Campus Throughout the County's Education System.
Issued by the Education Bureau of a county in Liaoning Province's Anshan city in August 2018, the document divides the crackdown on religion on campus into six major segments. Among them, two of the segments specifically target teachers. The first, the campus "purity" campaign, demands that an investigation be conducted into curricula, teacher preparation, and classroom teaching of instructors, including those in private schools and various training courses. The goal is to put an end to content with religious overtones and to "ensure that education and teaching adhere to the correct political direction."
The sixth segment is about a campaign to "cultivate the young" addressed to teachers. It demands that the ideological status of teachers be ascertained. Teachers must be instructed to "be loyal to the Party's educational cause" and to uphold the idea of "fighting for the Party's educational cause without ceasing." In addition, the document states, "Holding firm to this belief is a precondition for developing 'teacher morality' and will be included as part of the content of teacher morality assessments." In other words, whether a teacher possesses "teacher morality" depends on whether he or she is "loyal to the Party's cause."
Source:BITTER WINTER/Wang Anyang