To prevent any anti-government content from appearing publicly, the CCP is taking measures to control the content of computer-controlled displays.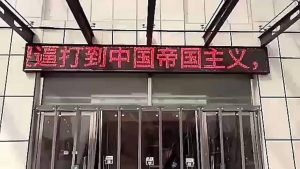 Zhang Wenshu
On April 8, visitors to the emergency department of the Gaoyang County Hospital, located in Baoding city in northern China's Hebei Province, were met with an anti-China slogan on a scrolling LED display board above the entrance. The slogan, including phrases "Overthrow Chinese imperialism" and "Long live Japan," appeared as a result of a hack, reportedly performed by a 31-year-old local man, surnamed Li, who was later arrested by the police. The man is said to have worked for a communications technology company and used a mobile phone to connect to the hospital's LED screen to post remarks deemed "insulting to China."
The event in Gaoyang, it seems, has caused provincial public security authorities to implement measures in preventing more hacks from happening. Shortly after the hospital incident, on April 26, a primary school principal in a Hebei county, under the jurisdiction of Handan city, received a notice from the local police station, demanding him to ensure that no anti-China speech be broadcast on the school's LED display.
According to the school director, other schools, supermarkets, and other organizations that have LED displays had all been required by the police to sign statements, committing to prevent any inappropriate information from appearing.
Analogous measures are being implemented in other areas of China. As reported by Bitter Winter, during the celebration of the 70th anniversary of the Liberation Army Navy, attended by sizeable foreign delegations and President Xi Jinping himself, the LED display boxes at some shops were removed on orders by officials in Qingdao city in the eastern province of Shandong. According to one shop owner, the reason for removal was the fear that anti-government information or remarks would be displayed by hacking the computers that run these LED boxes.
Similarly, before April 25, marking the 20th anniversary of the peaceful demonstration by more than 10,000 Falun Gong practitioners outside the National Appeals Office (Zhongnanhai) in Beijing, asking to release their detained fellow practitioners, "stability maintenance" measures were carried out across China. According to a government insider, Quanzhou city authorities in the southeastern province of Fujian convened a "public security management working meeting" for persons in charge of enterprises and institutions in the area. At the meeting, the attendees were demanded that, between April 24 to 26, all work units that have an LED display turned them off or changed the passwords for computers that run them, to prevent any possibility of hacking to display information about Falun Gong and anniversary-related or anti-China content. The participants were warned that as soon as the police discover any such phrases, the people in charge of displays would be arrested. The officials also warned that the meeting's content was confidential and external dissemination was prohibited.
source:BITTER WINTER/Zhang Wenshu