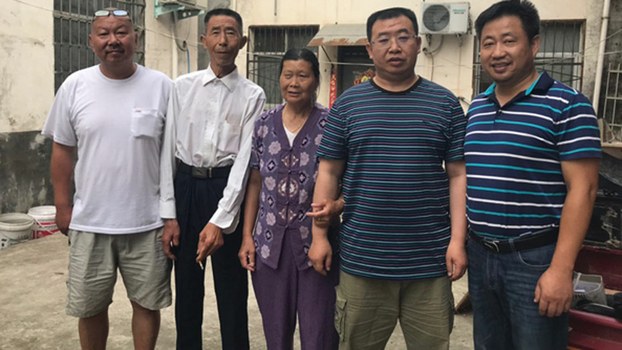 The wife of prominent Chinese human rights lawyer Jiang Tianyong has called on the German chancellor, Angela Merkel, to put pressure on Beijing to allow him to leave China during her trip there this week.
Jiang's U.S.-based wife Jin Bianling has repeatedly expressed concern for her husband's health after he was tortured by cellmates during his time in detention.
Jiang, 48, was "released" in February at the end of a two-year jail term for "incitement to subvert state power," a charge often used to imprison peaceful critics of the ruling Chinese Communist Party.
He was allowed to return to his parents' home, but remains under close surveillance by police.
Merkel heads to China on Thursday at the start of a three-day trip that will include breakfast with Premier Li Keqiang on Friday morning, and a meeting with President Xi Jinping.
In a letter to Merkel dated Sept. 5, Jin called on Merkel to raise her husband's case with the authorities in Beijing.
"Jiang was released on Feb. 28 this year and has been out of prison for more than six months," Jin wrote. "However, he is being held under house arrest by the Chinese state security police at his parents' home in Luoshan county, Henan province."
"He has no personal freedom," she said. "If they go out, they are closely followed and harassed by multiple unidentified personnel, who also stop friends from visiting."
'Inhuman' treatment
She said the authorities are also denying Jiang access to medical treatment, calling their treatment of her husband "inhuman."
Merkel has previously met with Jiang following a 2015 nationwide police operation that saw more than 300 human rights lawyers detained, questioned, and restrictions placed on the freedom of both the lawyers and their family members.
Jin said she had sent the letter to the German embassy in Beijing, where it would await Merkel's arrival.
"Jiang Tianyong is being held under house arrest at his parental home in Henan by the Chinese Communist Party's secret police," Jin told RFA. "His health has been very poor, but the state security police won't allow him to get checked out at the local hospital."
Jin said she had specifically asked Merkel to ask Chinese leaders to give Jiang back his freedom, the right to come and go as he pleases, and allow him to be reunited with his family in the U.S.
Rights lawyer Xie Yang, who in June went to visit Jiang, getting into an altercation with state security police over a medical examination.
"The Chinese Communist Party has been blatantly persecuting human rights lawyers," Xie said. "Jiang Tianyong's health has always been a matter of concern, but he can't get timely treatment for his condition because the relevant departments have restricted his personal freedom."
"Merkel should exert diplomatic pressure on the Chinese Communist Party, and take this opportunity to present a request to the Chinese Communist Party for a meeting with Jiang Tianyong," he said.
Worsening rights record
Given that Merkel is traveling to China with a large business delegation in tow, Xie said it was important for Germany not to forget about the country's human rights record.
"It is impossible to do business with the Chinese Communist Party without consideration for human rights," he said.
"Beijing's human rights record has gotten worse … and the persecution of human rights lawyers … is unprecedented," Xie said.
London-based rights group Amnesty International has said that Jiang had seen a deterioration in his physical and mental health amid concerns that he was at risk of torture or other ill-treatment in Xinxiang Prison.
Jiang, who pleaded guilty to "incitement to subvert state power" at the Intermediate People's Court in the provincial capital Changsha on Aug. 22, 2017, was sentenced in November 2017.
His sentence was based on his setting up of a campaign group in support of rights lawyers detained in a nationwide police operation targeting the profession since July 2015, the court said at the time.
He was accused of "speculating" on politically sensitive cases and "inciting others to illegally gather in public places" and "stirring up" public opinion, the indictment said.
Reported by Lu Xi for RFA's Mandarin Service, and by Ng Yik-tung and Wong Lok-to for the Cantonese Service. Translated and edited by Luisetta Mudie.
Source: Copyright © 1998-2016, RFA. Used with the permission of Radio Free Asia, 2025 M St. NW, Suite 300, Washington DC 20036. https://www.rfa.org.