Another government-approved Protestant church in Henan fell victim to the authorities' religious persecution: it was reduced to ruins in just over ten minutes.
Tang Feng
As part of its harsh crackdown on Christianity, the Chinese Communist Party (CCP) is not only banishing and destroying so-called house churches, places of worship that have not been approved by authorities: even the state-controlled Three-Self Church is not spared. Since the beginning of 2018, numerous Three-Self churches across China have been forcibly closed down, repurposed or demolished. Central China's Henan Province is one of the regions where persecution has been the most severe.
The construction of the Three-Self church in Xianglushan town of Yiyang county, under the jurisdiction of Henan's Luoyang city, was funded by believers. It covered an area of about 200 square meters and could accommodate over 100 people.
On the evening of March 14, 2019, about 100 government officials and police officers, led by the secretary of Xianglushan town, arrived at the church and ordered to forcibly demolish it on the grounds that it "violated building laws."
"The church's property lot has existed for over 30 years, and the church had a property certificate for it. No one has never said that it had violated building laws," the church's director argued vigorously with government officials at the demolition site, seeking to save the church.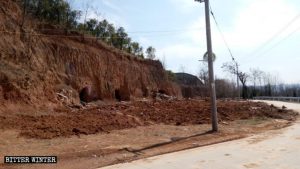 "This is the state's land; all of it belongs to the Communist Party. You can't disobey the leadership of the Communist Party!" the town secretary chided rudely and unreasonably. He also told the gathered members of the congregation that the forced demolition was a joint law enforcement operation led by the Yiyang county government as well as the county's State Land Management Bureau and Planning Bureau. He added that the demolition was imperative, and no one could stop it.
Protesting against the demolition and attempting to protect the church, believers gathered inside the church. When the town secretary saw that believers were disobeying him, he flew into a rage and ordered the police to take them out of the church. Officers immediately swarmed in, chasing and dragging away the believers. It was a chaotic scene.
The authorities were demolishing the Three-Self church in Xianglushan town, accompanied by the cries of distressed believers:
Afterward, government officials directed a large excavator to start the demolition. In a matter of just over ten minutes, the church collapsed, leaving a pile of ruins in its wake. The next day, the debris was completely razed to the ground, leaving no traces of the church.
The believers assembled at the site, denounced CCP's brutality: "Nowadays, the Communist Party has no respect for law and order. They're really detestable!"
source:BITTER WINTER/Tang Zhe