A place of worship in Taiyuan city was forcibly shut down for "disturbing public order," its congregation members taken away for interrogation.
by Zhang Feng
On the morning of June 16, about 60 Public Security Bureau officers raided a meeting venue of Cornerstone Church (Fangjiaoshi Church), located in the Dingtaifenghua residential area in Taiyuan city of the northern province of Shanxi.
A member of the church who requested anonymity told Bitter Winter that the venue was attacked at around 9 a.m., as the pastor led believers in singing hymns praising the Lord. The leading police officer shouted, "No one move! You're not allowed to take photos. Place your mobile phones and bags by your feet."
The local Ethnic and Religious Affairs Bureau shut down the venue already on December 16 last year, but the congregation continued their meetings. The authorities asserted that Cornerstone Church was an illegal meeting venue that violated the Regulations on Religious Affairs and said that believers "severely disturbed public order," so the church must be sealed off and shut down.
Video: The police raided the meeting venue of Cornerstone Church; believers were forbidden from taking photos.
As regular and auxiliary police officers kept guard at the scene, believers were prohibited from entering or leaving the venue. The church's pastor and over one hundred believers attending the gathering were escorted in small groups to public security sub-bureaus for interrogation. Each was photographed before departure.
The believer's religious status as well as their detailed personal and family information were registered during investigations. They were also forced to sign a "statement of guarantee" and a "statement of repentance," promising to break off ties with the church and "resolutely uphold the authority of the Communist Party and the government." For their release, the believers had to ask their relatives to come to police stations and sign a guarantee on their behalf. Family members were ordered to supervise their religious relatives who were threatened to be severely punished if they continued to practice their faith.
Video: Believers were taken away by the police, one by one.
The forced closure of Cornerstone Church is by no means an isolated incident. In recent months, numerous house churches have been shut down, and Christians arrested across the country. In Taizhou city of eastern China's Zhejiang Province, at least ten house churches were shut down from March to April alone.
On April 12, Living Stone Church, located in Ji'nan city of the eastern province of Shandong, was sealed off on the grounds that it was "unlicensed."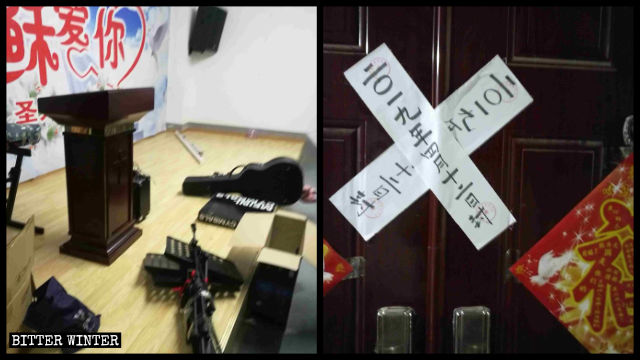 On June 20, Haifu Church, located in the Haicang district of Xiamen city in the southeast coastal province of Fujian, was also shut down. The local Ethnic and Religious Affairs Bureau stated that the church "held illegal gatherings and disturbed the public," and tried to coerce Wu Bin, the person in charge of the church, into joining the Three-Self Church, but he refused.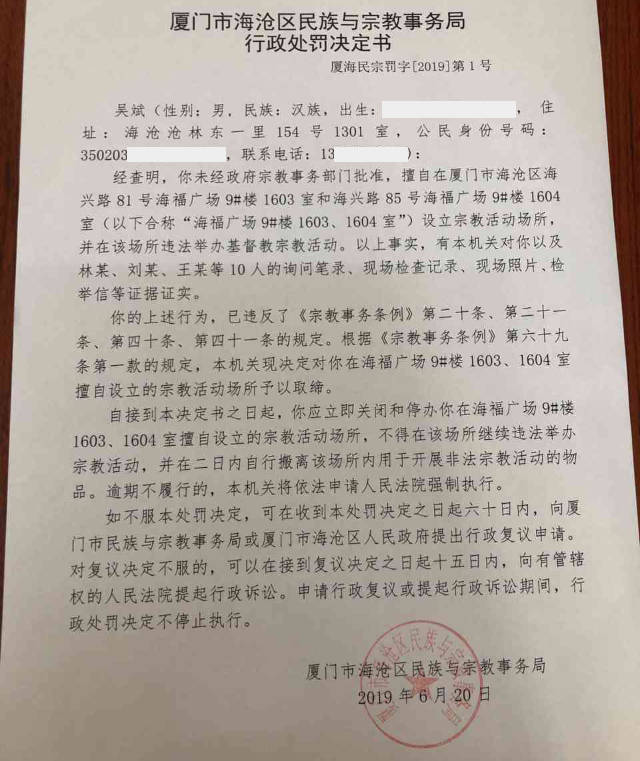 According to a June 17 report by Weiquan lawyers – the movement of lawyers, legal practitioners, scholars, and activists who help Chinese citizens to assert their interests through litigation and judicial activism – the large-scale campaign to shut down house churches has affected over 40 churches in Xiamen, including Dianqian Church, Shiyijian Church, Ruijing Church, Qianpu Church, Jinshang Church, Yicheng Church, Chengguang Church, Berea Church, and many more.
In the face of persecution, a pastor in Xiamen remarked: "Our shepherding work must continue along the righteous path to protect our rights."
Source:BITTER WINTER/Zhang Feng